Cindy.Chen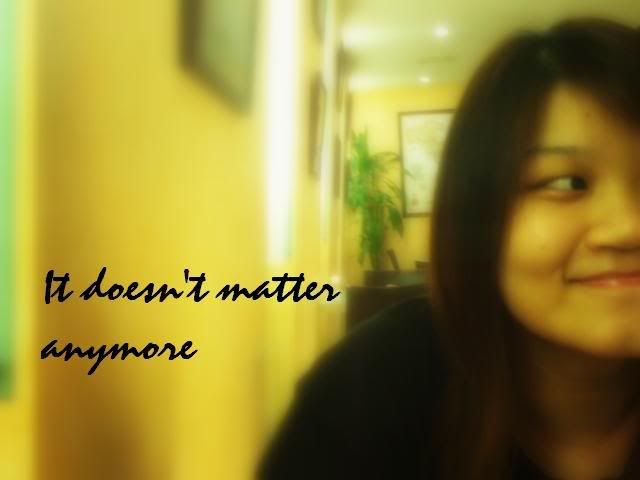 About ME


+25th Jan 1988.
+20 years old
+PSBAcademy.
+mhss.
+family.
+music.
+travel






Thursday, November 08, 2007

I almost had an accident yesterday while learning to drive.Fortunately,I only had the scare of my life and not the cost of my life.Hahaa!Ok fine,it wasn't that serious actually.Just had a slight bump at the back of the car.

This was what happened.

I think i've told almost everyone i'm damn scared to drive on a upward slope because i can't really control the car very well.The tendancy of me going backwards is higher than moving forward.So whenever i'm on the slope,i'll panic.

So initially,when the traffic light goes green,i moved on quite smoothly until this super F*UP taxi driver+lorry driver kept tying to cut into my lane WHILE WE WERE ON THE SLOPE!!Apparently,they were trying to turn left but the lane they were on is to go STRAIGHT.



WHAT THE HELL LAH!!IMAGINE 2 VEHICLES HOR!!And i was already struggling to move off from the slope yet this kind of shit driver come and give me this shit!Can't see the L plate isit!?I highly suspect they played cheat on the BASIC THEORY TEST.

Question:
What do you do when you want to make a turn but you're in the wrong lane?



Answer:




JUST GO IN THE DIRECTION ON WHICHEVER LANE YOU ARE

IN,DAMNIT!



2 f*cking dumb drivers.

So obviously,i panicked and i kind of lost abit control of the car and bump into the car behind me.Then after that,we got off the car and the other driver too and my instructor and that female driver almost got into a fight.Seriously,what's wrong with people nowadays?And all because of that 2 f*cking aggressive drivers!KNS.

I was so shocked and was damn distracted until my instructor asked me to swop seats with her because she said i was too preoccupied in the mind to drive.I was,man!

Anyways,my cousin is pregnant!Okay,which one now,right?My dad's side!Finally!!Another boy to add on to our family tree.I hope he'll grow up to be damn handsome.AHAHAHAHA!And they already gave him a name!My cousin was telling my dad and all that she dreamt that the baby actually told her his name.

Jon Paul.

Yup,his name.My future nephew's name.

Yesterday while having dinner with my dad and sis,we were actually laughing about it.Celine lah,she was telling me dad

Celine:actually,we can ask kelly they all to save money leh!because i'm trained to deliver babies too!like in case of emergency..
Dad:don't anyhow ah you..
Me:den what you gonna do?shout his name ah..'Yoyo,Jon Paul come on out!YOU CAN DO IT!!'

HAHAHAAH!

Don't you find the name like so..hiphop?Ok maybe it's just me.

I think Alicia Keys ROCKS!!!I'm so in love with her new singles,No One!!