Cindy.Chen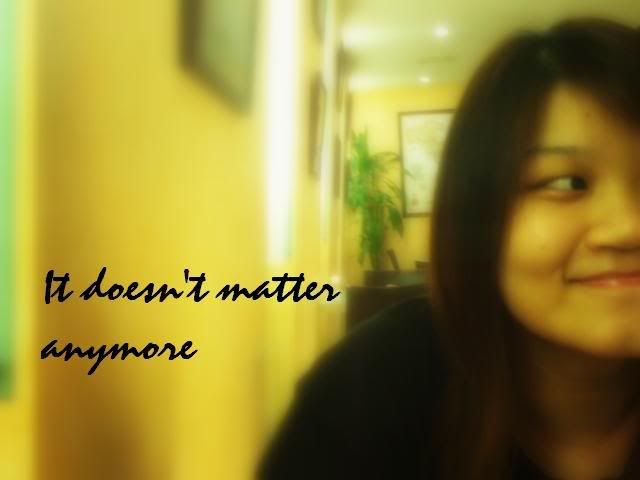 About ME


+25th Jan 1988.
+20 years old
+PSBAcademy.
+mhss.
+family.
+music.
+travel






Monday, November 12, 2007

I don't know what's up with me lately but i'm damn in love with some of the classic love songs.Just to name a few,

1)Lionel Richie - Ballerina Girl
2)Whitney Houston - Where Do Broken Hearts Go
3)Whitney Houston - Greatest Love Of All
4)Whitney Houston - Run To You

Or rather,most of Whitney Houston's.

I've never really been a fan of hers though.But now,i think i might just go to HMV and grab some of those CDs!That is IF they still have it.

Anyways,nothing much to update actually.Celine has been flying in and out for the past few days.She'll be flying back to Abu Dhabi tomorrow for good,ok fine,at least for another month or so before her next visit here.


Time passes damn quickly this year!Soon,it will be CHRISTMAS!And 1 month after Christmas,will be my 20th.DAMN!!Please start thinking what to get for my birthday already.It's about time.

Oh,did i mention we(my dad+sisters)had

MUSHROOM STEAMBOAT

for dinner the other day?YES WE DID!Read carefully,

MUSHROOM STEAMBOAT

.It's nothing but MUSHROOMS!Faint please.

As most of you know,my dad is a vegetarian.For those who don't,now you know.So when we eat out,it's usually a vegetarian restaurant.I know this sentence is coming,

'huh?so poor thing?'

No,it's not.It's really not as pitiful as you guys think.Vegetarian food is not all about veggies ONLY okay?QUIT THAT THINKING ALREADY!

But anyway,back to that MUSHROOM STEAMBOAT.For the first time in my life,i actually contemplated if i should join them for that mushroom feast.It's really quite a turnoff!I told my dad i might have a phobia for mushroom after this meal and he just laughed it off.I think i really did.

Imagine a pot with nothing but MUSHROOMS.No chicken,no pork,no sausages nor is there any prawns.Just..mushrooms.12 different types of mushroom,just so you know.I've got pictures to prove it!



*pukes*


FINALLY!!mostly cleared by my dad!

After eating that mushroomy dinner,my dad can actually tell me this.

Dad:Eh,i confirm you go home sure shit want..

Right.I've been constipated for 3 days ever since that dinner man!I told him and this was his response.

Dad:It takes time.It's like that..you can't rush it.
Me:But it's been 3 days already lor!Usually i will release whatever i eat on the day itself.
Dad:Really?Then maybe really eat too much of mushrooms liao.*laugh*

Tell me about it.