Cindy.Chen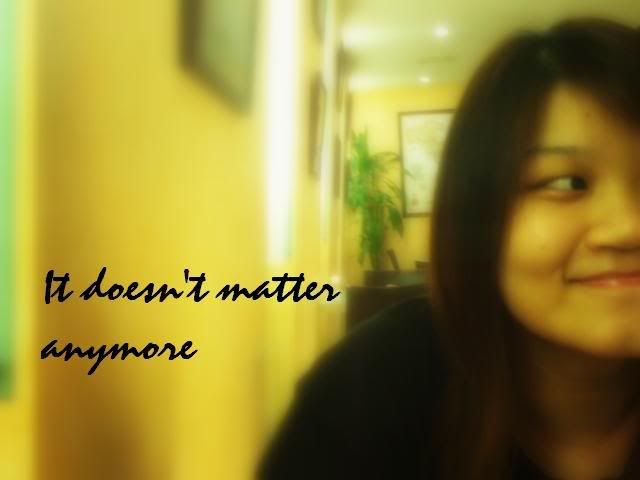 About ME


+25th Jan 1988.
+20 years old
+PSBAcademy.
+mhss.
+family.
+music.
+travel


Tuesday, November 13, 2007
I think reading my blog is extremely straining to the eyes.The font are damn small,don't you think?Yet no one is complaining except for myself.Okay,what the hell.
I was reading my past entries,especially those in 2005,and i kind of regretted skipping school at that time.I know,i know.It's already the past,stop thinking back.But sometimes you just can't help it!

I get easily annoyed with people saying things like 'if only' or 'I should have' or 'why didn't I' or stuff like that.It's damn stupid but,I become one of them subconsciously.

It's like,say,you have a crush on someone before.

Maybe at that point of time,you weren't as confident as you are now.And when you think back about that crush,you can't help but to think why didn't you have the courage to tell that person you liked him/her.Or,'if only i told him/her',and you'll start imagining all the 'possible outcome'.Right?It happens to everyone i guess.

Human beings are weird creatures.

Sometimes we want something so badly,we overlooked on alot of things OR looked into too much things.

For example,you like this latest gadget(or whatever that you set your eyes on).It's very expensive but you want it so badly.So you'll be thinking of ways to save up the money as soon as possible to buy it,hoping no one would set their eyes on it.Once you bought it,you think to yourself,

'Why did I buy it?It's so expensive and I barely used it.'

Think back.Why did you buy it?

It's because you liked it.

When we liked something,we don't consider other factors.

Impulse,you may call it.

But when it comes to feelings or emotional,we looked into it too much.Things like,'i don't think he/she will like me','he/she too good for me'(which i think is total B.S!no one is ever too good for anyone,ok?don't be stupid.)

And no,stop being narrow-minded and think i'm in some emo-state now cus i have a crush whom i can't get over.It's just a random thought,damnit.


Back to being impulse.
I'd think Impulse is my middle name.

I often do things on impulse and ended up regretting it.Even the slightest things like,taking a cab during peak hours will make me hate myself for at least half an hour after i reached my destination.

This means,Regret is also my middle name next to Impulse.

You might consider calling me Cindy Impulse then Regret Chen after reading this entry.

HAHAHAA,i know i'm so random.BLEH!