Cindy.Chen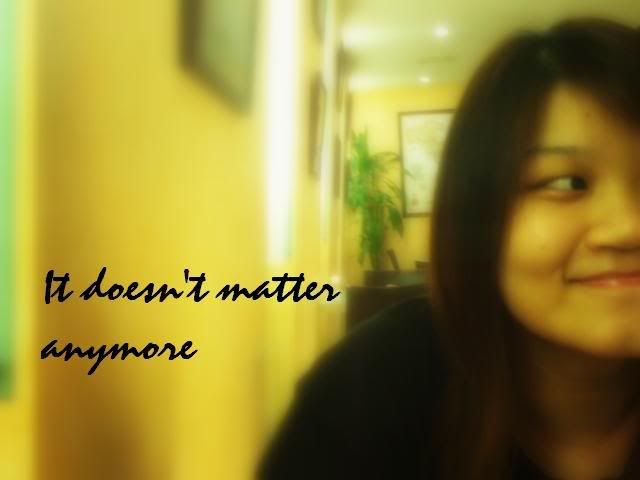 About ME


+25th Jan 1988.
+20 years old
+PSBAcademy.
+mhss.
+family.
+music.
+travel






Saturday, December 01, 2007

Life is so unpredictable.

I guess everyone has already heard the news about the 5 DragonBoat paddlers.They were all so young.It really came as a shock for everyone but at least i believe they've lived their life to the fullest.They did what they loved to do.

But their passing on indeed,i believe,awakened some of us.For me at least.

You know we're always telling ourselves and others that life is too short so you should do whatever you want but seriously,how many of us can actually do what we preach?It's not exactly hard,but it isn't easy either.

I don't know but i'm feeling so emo now.It's 12.24am now and it's rather chilly,maybe that's why.

Just a few days ago,i couldn't contact Wiki.Yesterday,she finally picked up my call and..

Me:wah lao,you don't know how to pick up call one hor?why you off your phone
Wiki:wah lao,i kanna robbed in JB lor.

When i heard that,i almost cried,in the shop where i was working.

I think none of my friends know this.

I'm actually someone who cries damn easily.

1)Simple things can make me cry.
2)Listening to a sad song can make me cry.
3)Singing a sad song can also make me cry.
4)Goodbyes make me cry.
5)Confession makes me cry.
6)Knowing someone whom i know or who are close to me and is in trouble yet i can't do anything about it makes me cry.

All in all,I'm an emotional basketcase.

Really.I'm such a big girl yet i act like a small girl.Maybe even small girls don't act like that.

When i say Goodbyes make me cry,it's in a sense when i won't get to see the person again or anytime soon.And by Confession,i mean when i talked to someone who is close to me like my family.My dad especially.Sometimes when he isn't moodswinging and when we can actually sit down and talk for hours,i have this feeling inside me which is undescribable.Then,memories start flashing back.Good and Bad ones.

Anyway,back to Wiki.

She went on to tell me what exactly happened and thank god what they wanted was only money.It was such a close shave and i don't even wanna think it.

Then came today.

I was happily shopping at Taka and while on the way to the MRT station,my colleague msged me and told me today was her last day working at the shop already because the boss had transfer her to another shop to help out.I quickly went to the shop and just nice,everyone was there.My supervisor and another colleague are planning to quit too.I was so damn upset i actually cried.

It's really very heart-wrenching to see people whom you've worked with for the past 8 months go.Especially for me!

Everyone knows that my previous job(s)won't last more than 3 months and just when i thought i have finally found the job which i can stay,everyone starts leaving me.

I've said this so many times.The prior thing i look for in a job is the people whom i'll be working with.And these people are the ones who makes me look forward to work everyday!Maybe except for that sissy guy.But if by accepting that sissy guy who always makes my day down could change all that's happening,i would!I really really would.

See.Although the pay is friggin damn low,i don't mind.And the only and i mean ONLY reason i continued working is because of the people.

Sigh,i don't know man.I feel so lost.I've never felt this way ever since after Os.