Cindy.Chen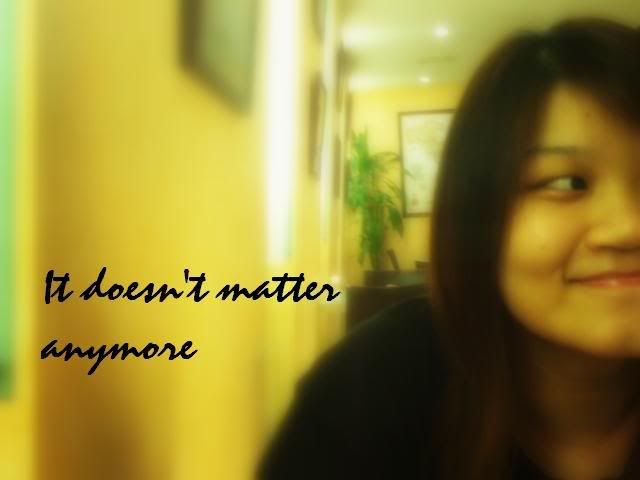 About ME


+25th Jan 1988.
+20 years old
+PSBAcademy.
+mhss.
+family.
+music.
+travel






Friday, November 23, 2007

Firstly,thank goodness everything's fine now!=)
Wow,time really flies!

Exactly a year ago,it was MHSS flag lowering ceremony.

A year later,the remaining of that few classes from MHSS had already completed their Os in BHSS.

B and M does make alot of difference ok?!

Yesterday was my first lesson in Marketing,again.I had to retake the module because well,i flunked it the other time.I'll bloody make sure i pass this time round.EH,$246 for 1 module isn't cheap man!

No handsome guys,as usual.

It's okay,just have to endure for 8 lessons and i'm done!

Lecturer is a female.She reminds me of Aileen Tan,that Mediacorp Channel 8 actress.Her laughter is friggin weird.Ok,correction!Unique.

Think.That super deep laughter when you laugh with your mouth closed.

I'm not joking!I shall record it down one day.

Oh well,she's quite alright i'd say.At least not that boring,YET.;)The class is okay but anyway,i'm not going there to make friends.LOL,i know i sound damn anti-social but it's true.I'll only be there for 8 lessons and after that will be sayonora already.LOL!

Then i'll have to wait for my real class to start in 2008.Sian.