Cindy.Chen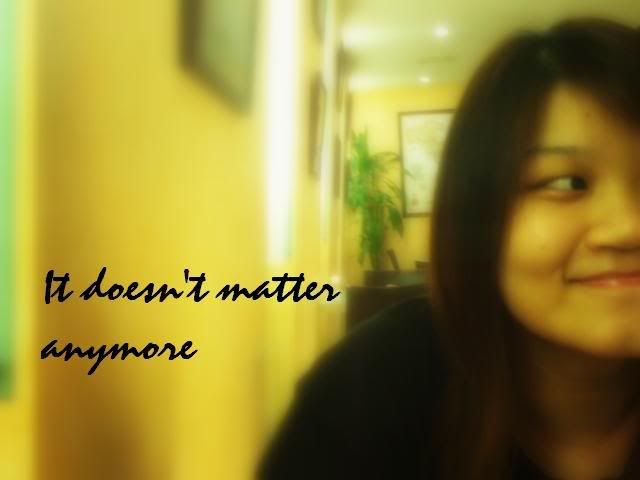 About ME


+25th Jan 1988.
+20 years old
+PSBAcademy.
+mhss.
+family.
+music.
+travel






Sunday, December 23, 2007

I didn't know my tagboard isn't working until now!DAMN!No wonder it's been so quiet lately..not that it's always flooded with tags but still!

Christmas is just 2 days away!Will be going down to my grandma's place(dad's side)on Christmas Eve again this year.

It's actually an annual affair to celebrate Christmas at her place since young with very traditional routine like,we'll only get to collect our presents underneath the Christmas tree when the clock strikes 12(luckily they don't have the practice to sing christmas carols),and the table which is full of CHRISTMAS FOOD!

Okay,i know it sounds damn typical right?IT IS SUPPOSED TO BE.

Before all of that,i'd always wait at the balcony and call my friends because i was too darn bored.But ever since Celine started flying and me,having graduated from high school(which is actually erm,no connection for me to NOT go at all),we didn't make it a point to go down anymore.Oh well,shit happens.

Despite that,the presents still keep coming in,which is a good thing of course.

Anyway,the most important thing isn't about the presents.Like i said,CHRISTMAS FOOD!It's the SCRUMPTIOUS FOOD!!OH FOOD GLORIOUS FOOD!!

SHEPHERD'S PIE/CHICKEN PIE!!
LOGCAKES!!!!!!!!!!!!!
TURKEY!!
HAM!!
(OMG,THERE'S MORE!!but i can't think now..i'm friggin craving for the above!LOGCAKE!!!!)

I don't mind putting on another 10kg just for the food!

ARGH,why did i even start posting this entry?!!?I'm starving already!