Cindy.Chen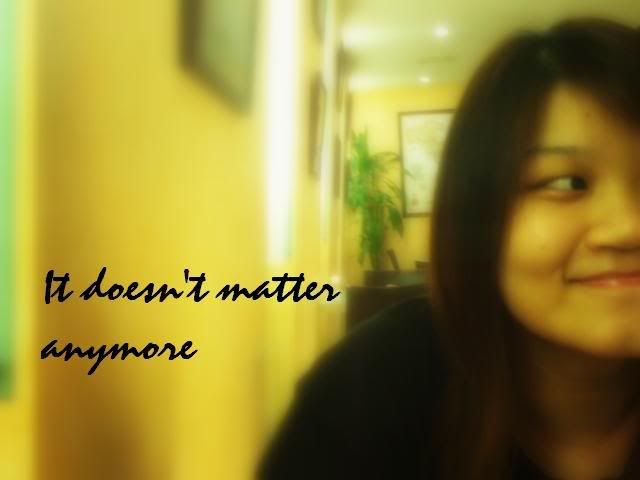 About ME


+25th Jan 1988.
+20 years old
+PSBAcademy.
+mhss.
+family.
+music.
+travel


Saturday, December 15, 2007
I was out with karen yesterday.We FINALLY,and i mean FINALLY,went to sing ktv.The other time we were supposed to go but in the end,that biatch had sore throat.Not that she can control right,you must be thinking.NOOOOO,she COULD,IF she didn't eat all those junk food she had on cruise.Super know how to enjoy herself.

Anyways,yes,we were singing our lungs out especially when it came to the F.I.R song.That lead singer's voice too high lah,so whenever we picked their song,it's usually for screaming.Quite shiok you know?;) Right bitch?

Looking back at this week,i think i'm crazy.

I've been working everyday for the past few days and will be working for the next few days as well!7 days a week leh.And i didn't even realise until yesterday night when i was lying on my bed thinking what's my plan for the next day and think back what was my plan the past few days.Only 1 thing - WORK.

And because my work is so irregular(different place and timings),i had to make reminders for myself.

I think i need a break....

...to clean up my messy room,which is cluttered with all sorts of rubbish.
...to sit down and have a proper meal with my family.
...to visit my grandma.
...to also finish up the grocerries i bought which are gonna expire soon.
...to lie on my comfy bed not because i'm tired but to just stare at the ceiling like i used to,thinking about nothing at all.
...to sit on my sofa and watch tv programmes which i haven't done so in a loooooooooooooong time!(i was a tv-addict,couch potato you may call it)
...to think about things.
...for myself.

*snap back to reality*
I'm gonna be 20 soon,SHIT!