Cindy.Chen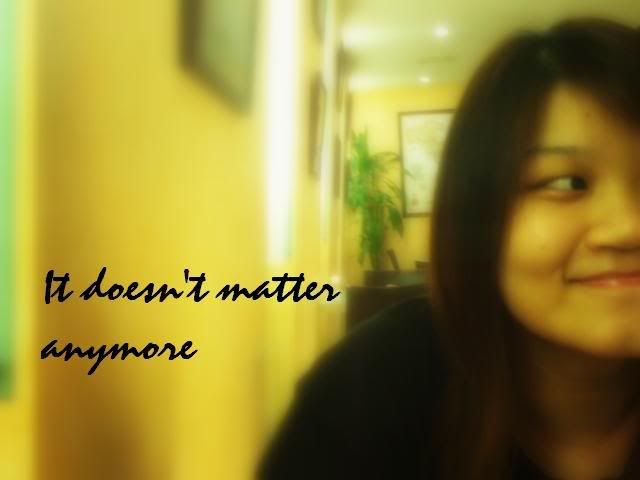 About ME


+25th Jan 1988.
+20 years old
+PSBAcademy.
+mhss.
+family.
+music.
+travel


Friday, December 07, 2007
I'm so pissed with myself.Wanna know why?WANT?WANT?WANT NOT?OK I TELL YOU.

I REGRETTED GOING TO CLASS YESTERDAY!!!

IT WAS POURING KINGKONGS AND DINOSAURS YET I STILL WENT AHEAD FOR CLASS.I COULD HAVE BLOODILY STAYED AT HOME,ENJOYING THE COMFORT OF MY EVER-SO-COSY BED AND JUST SLEEP!YET,I WENT FOR CLASS.STUPID.

OK,THE THING I'M PISSED WITH MYSELF IS NOT EXACTLY GOING TO THE CLASS PART.IT WAS BECAUSE I'VE FORGOTTEN TO BRING AN UMBRELLA WITH ME!WAH LAO,I SHOULD HAVE JUST SHOT MYSELF RIGHT IN THE HEAD RIGHT?!

So,i called Miss Piggy up and SHE WAS DAMN NOBLE OK?!She was actually in the cab with her colleagues,who dropped her off IN school,yet she walked over to the bus stop to pick me up.AND getting half-drenched as the umbrella was too small for 2 person.ALL BECAUSE OF ME.She could have been all dry and went for the class as per normal but because of me,she was semi-naked.And having a bad flu now.I owe her one.Ok,i shan't cook you for dinner and pray to 'dua bei kong' anymore.

Anyway,back to the part which pisses me off even more.

I reached class and realised the inside of my bag was flooded with rain water.So i quickly took out my hp,and yes,kns,it hanged.My mood had swung to the maximum and i kept blowing the back of the card reader like i'm doing CPR to my hp until the 2 girls who were sitting beside kept looking at me.I COULDN'T BE BOTHERED OK?!I JUST WANTED TO RESCUE MY HP!!

But to no avail.It died on me.Basket!

I was shivering like crazy in class,wearing jacket = not wearing jacket because half of the jacket was already wet before we even reached the school.So,i only managed to use the other half of the jacket to cover half of my body.

And today,i overslept because i was so tired i think i could sleep forever.But i have to wake up because i had work today.So,decided to take a cab down and guess what?Suay-ness is in love me.I actually knocked my head against the rim of the door.WAH LAOO..can you believe it!?!It's not as if it's my first time taking a cab can!?The bang was so loud until the taxi driver was like..

*think,suck in your breath when you pronounce the letter 'S'*
'sssss!'
(it's a form of reaction when you witness something that is incredibly painful,or seemed painful)

Then,while i was on my way home after work,i realised my ipod isn't working too!!!

WAH LAOOOOOOOOOOOOOOOOOOOOOOOO!!
(it's a form of reaction when you get especially fed-up with things which is beyond description)

TSK!WHY DID I CHOOSE TO GO TO CLASS ON A DAY WHEN I'M NOT SUPPOSED TO?DAMNNNNNNNNNN!