Cindy.Chen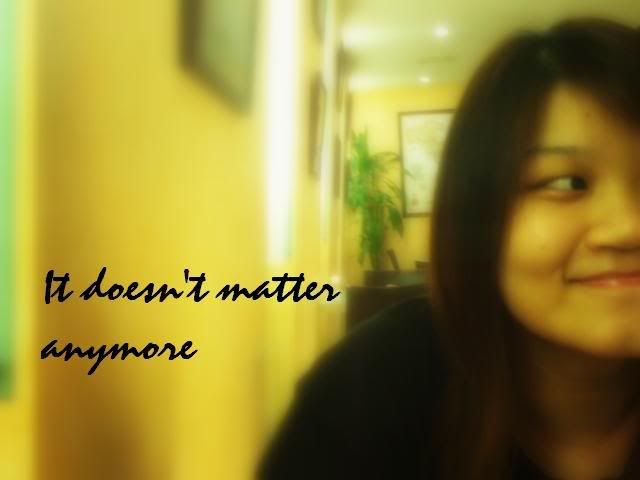 About ME


+25th Jan 1988.
+20 years old
+PSBAcademy.
+mhss.
+family.
+music.
+travel


Tuesday, December 25, 2007
MERRY CHRISTMAS EVERYONE!!:))

Wow!5 more days and it's the end of 2007.Very very fast indeed!:(

By the way,haven't you guys already heard?Jessica Alba is pregnant,too!Everyone's getting pregnant,yoohoooooo!!~ hohoho!Next year is gonna be an interesting year,i guess?

Came back from my grandma's house not long ago and i'm stuffed to the max.Ate like a pig!Food was good except that this year,NO PRESENTS FOR US!!DAMN!!I CAN'T BELIEVE IT!NO PRESENTS!!Just when i mention on the other post that we never fail to get presents every year,THIS YEAR NO PRESENTS FOR US.AHHHHHHHHHHHH!!!No presents,money also good what.Christmas no presents,how special can it get?!

Make sure CNY red packet will be a fat one!Okay,i better shut it since i've a jinxed mouth.

#edited#
Okay,my bad.My aunts came down today and gave us money to buy our own things.HEEE!
#edited#

Anyway,nothing much.It seems like this year all my friends are celebrating with their bf/gfs.KNS..you all good.HAHAAHA!Kidding lah!

Aiight,gonna upload a few pics.Till then.
See,what's underneath the xmas tree?NOTHING!!!
:(
HURHUR!!

Christmas pudding with ice-cream.heavenly!BUT damn thirsty after that.So you thought i'd say it's sinful isit?Please,you will never hear the word SINFUL from me because eating is never a sin.So shut it if you're one of those pple who always go like 'ah,that's damn sinful' when you've eaten something that's..fattening.Such vocab is just so unnecessary.Sinful,then don't eat lah.Pui!
Scandalous!HAHAHAA kidding man!that's my cousin and sister.he was showing her the MARTEL bottle which we'd always thought it was err..the alcohol inside the bottle?But it turns out that my uncle actually put chinese medicine inside.....great discovery after 19 years.

wooo lala,the chicken pie!friggin good!i'll never get tired of eating it!


the ham and filling.potato-cheese filling.damn good lah!


not one


but TWO logcakes!!and the one above was MANGO!!


dad at the gate


TURKEY!!*slurppppp

And..these are the food we bought from the other day.


dad and sis.



LOVE FOR FOOD NEVER DIES.