Cindy.Chen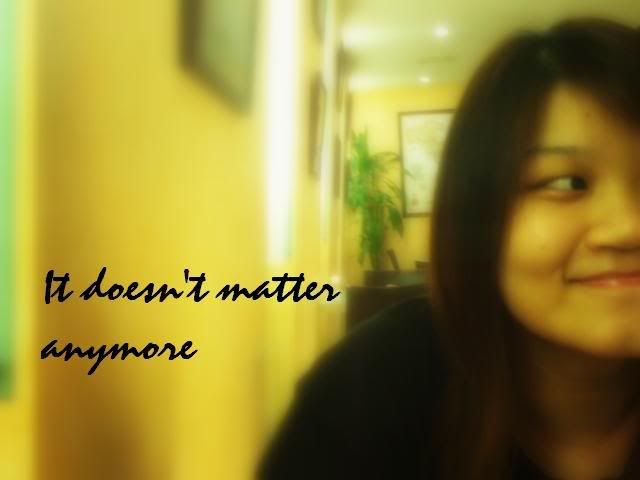 About ME


+25th Jan 1988.
+20 years old
+PSBAcademy.
+mhss.
+family.
+music.
+travel






Saturday, December 22, 2007

Okay,what the hell.

16 and pregnant,Jamie-Lynn Spears.

Shockness please.

But then again,it's a norm amongst teenagers already,isn't it?But seriously,SIXTEEN?!?-.-" Enlighten me,anyone?

----------------------------------------------------------------------

Anyway,was out with my sisters today for some shopping.Okay,INTENSE shopping.But it's always good to shop with your older sibling because 99% of the time,you won't be footing the bill.However,if guilt starts to creep on you before heading home,you might wanna volunteer paying for the cab fare.

We bought so much food before going home!Took a few pics but i'll probably upload it another day or something.Whole day revolves around FOOD.Even before we started eating our lunch,my elder sis was already planning on what to have for dinner.And,this was what happened shortly after..

Celine:wah i'm damn full!i think can skip dinner already.
Me:please.i give you 2 hours,you sure hungry again.
Celine:NO LOR,i won't.
Me:we shall see.

*after 1/2 hr*

Celine:eh,i very hungry leh.like never eat like that.
Me:oh my god!see,i told you!but it's only half and hour leh!
Celine:really meh?how come ah?

*stares at her stomach*

Seriously,she eats like a..pig.

Alright,i think i'd better go now.It's 3.20am and i'm still wide awake.WOW!!OH,and did i mention i ACTUALLY passed my project?!!?!YES I DID!!!UNBELIEVABLE!

5 hours of rushing is pretty worth it.HAHAHAA!