Cindy.Chen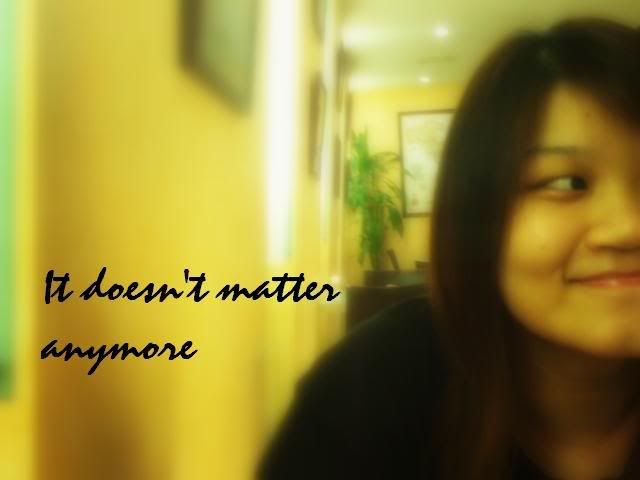 About ME


+25th Jan 1988.
+20 years old
+PSBAcademy.
+mhss.
+family.
+music.
+travel


Thursday, December 06, 2007
The weather these few days have been rather chilly.GOOD!Cool weather to sleep in:)

Anyway,yesterday was down at Taka to help out at the shop.I was supposed to reach there at 9am but,as usual,i overslept and only managed to reach there about 10.Luckily my supervisor was understanding enough and didn't scream her head off.

We re-arranged the whole shop and damn,it was friggin tedious!Imagine those big cupboards which are bigger and weighs heavier than normal human being?Yes,we have to move it.KNS,like coolies like that.Sweat like a pig!My body is aching like CRAPPPPPPPPP!

I left at about 5,i'd faint if i had continued.

So,decided to drop by United Square to visit Amanda(my ex colleague)at her new workplace since it was only her 2nd day,and man,i miss her!Working is not the same anymore.

Met up with Miss Piggy and Sister Zaw for dinner at Pek Kio and while on the way there,we bumped into Mr Seow!It was damn funny because Sister Z was helping us to take a picture when Mr Seow who,initially wanted to walk pass us,decided to U-turn as he didn't want to interupt us.Then Miss Piggy and I were like 'MR SEOW!!',not even concern whether Zaw has taken our picture or not.

Did i mention we actually WALKED to our dining place?Yes,we did.Miraculously with Miss Piggy.Ok fine,and myself.But it was because and only because the weather was pretty cooperative.CHILLY,i like!=)

ANYWAYS anyway,CHRISTY IS BACK!!

Went to her place and had my virgin mahjong experience.

I DON'T KNOW HOW TO PLAY MAHJONG CAN?LAUGH LAH LAUGH LAH.HARNA,I don't even know how to play dai-dee lah.Please tell me i'm almost extinct.

My dad is off to Korea.Can i cry now?For that unreachable kimchi.