Cindy.Chen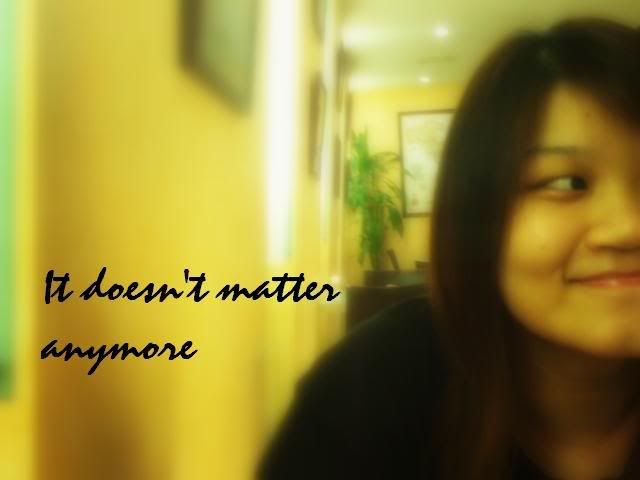 About ME


+25th Jan 1988.
+20 years old
+PSBAcademy.
+mhss.
+family.
+music.
+travel






Tuesday, January 15, 2008

As much as i love ibank,i hate it when i have to find my device to key in the numbers before i can log in.It's damn irritating!Ok,that sounds familiar.I seemed to get irritated over everything.LOL!

Anyways,work was boring today!I think i'm a jinx to the shop.No,really.Whenever i work,there'll only be countable customers.And whenever i don't work,their sales will always hit the benchmark.Why ah why?!I kept telling my colleagues i'm a jinx to the shop but they didn't believe until they realised it's true.Wah,damn sad.

I think the boss hates me to the core.That is IF HE EVEN KNOWS WHAT IS GOING ON IN THE SHOP.

Yesterday 'outing' with my ah ma and cousin was good!In fact,great!Although my hokkien sucks,and my grandma hardly understand what i'm talking about,it just feels great!:)

-at the viewing mall-
Miao:*points to the aeroplane which was about to fly* ah ma,li za yi gei pue kee si pue ki to luo bo?(ah ma,you know where is aeroplane flying to?)
Ah ma:hmm zai(don't know)
Miao:yi si pue ki Tiong Bahru(It's flying to Tiong Bahru)
Ah ma:si ah,pue ki Tiong Bahru(like real,fly to Tiong Bahru)
(starts laughing,and this uncle who was sitting next to us was laughing damn loudly too!so the uncle started talking to my grandma and...)
Ah ma:yi lang suka pian lao lang(they like to bluff old people)

STOP LAUGHING AT MY HOKKIEN,I KNOW IT'S NOT PERFECT.I'M STILL LEARNING!!AT LEAST I'VE TRIED!!

My grandma was damn funny lah!I think she finds us damn naggy instead of the other way round.We kept asking if she was feeling cold because when we touched her hands,it was freezing.She kept repeating the same thing,telling us only her hands are cold but not her whole body.I'm not gonna type out in hokkien again,damn kang kor!

Initially,she kept insisting she's not cold and doesn't want to put on the jacket.But once we lay it on her shoulders,she automatically puts it on herself.HAHAAHA!Damn funny man!

Maybe not funny to you guys,but funny to me can?!

Alright,i'm gonna hit the sack right about now..gotta wake up early in the morning tomorrow.NIGHT!!





my ah ma and me:)


HAHAAHA!I LOVE THIS PIC OF MY GRANDMA!SUPER CLASSIC!


no,she's not cold.


new spokesperson for SQ


while we were walking to the green wall,my ah ma was asking if the flowers are orchid.she really said out the word ORCHID ok?mai siao siao.


aww,that's sweet callister.but can you don't be so biased?!BIASNESS IN THE FACE LEH.


The reason,and ONLY reason i upload is because..as you can see.


ran out of pose