Cindy.Chen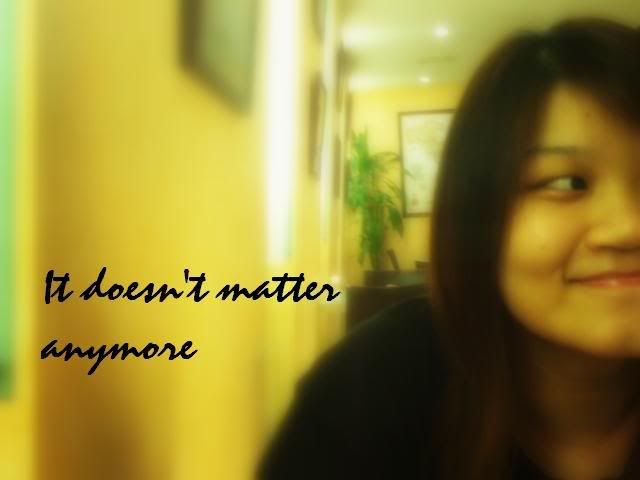 About ME


+25th Jan 1988.
+20 years old
+PSBAcademy.
+mhss.
+family.
+music.
+travel






Tuesday, January 22, 2008

HELLOOO!:)

Okay yes,i know i know i sucked at keeping my blog updated.What to do,nothing interesting to blog mah.Life's as usual - Boring.I've been waiting for something interesting to happen so that i can blog about it but seemingly,my life's THAT boring.*shrugs*

Not that i have something interesting to blog about anyway.Just had the sudden urge to type something.

I don't know why but it seems to me that lately,whenever i logged in to Blogger,the tendancy of clicking the Sign out icon is pretty damn high.I tend to press the backspace button more than the alphabetical buttons.

You have no idea how long i took to type out the above paragraph.I've at least 'backspace'(ed) 5 times.

Anyways,was out with my dad and sis to chinatown yesterday.Bought some decorations for CNY and re-arranged our whole living room because our new sofa has just arrived.It's too big!Now the living room looks damn cramped.


I think maybe i should stop complaining.Sometimes i complained too much i don't even realise how lucky i actually am.

It's 3 more days to my big 2!How exciting.

I can't believe it's just one more year to my 21st.I used to think 21 year old is still so long for me but now,in a blink of an eye,i'm old enough to be mama.LOL,kidding.You should know by now my jokes aren't always funny.It's usually for self-entertainment,if you know what i mean.But i know you don't,so forget it.

Did i mention i've decided to stop tutoring that woman?But guess what?She dropped me a bomb just now.Before that,I was happily telling Miss Piggy tomorrow will be my last day teaching that woman but after the tuition,

Me:Ok,so tomorrow will be our last lesson already ok?
Woman:HAR?!NO LAH,after cny you coming to teach me again mah.
Me:HUH?!!SINCE WHEN?!i thought i told you i don't wanna teach already?
Woman:no,you cannot dump me.you have to teach me for another 2 years.
Me:WTH!?
Woman:yah,i don't care.
Me:ok i will see first.

Trust me,i really said WHAT THE HELL loud and clear.

HOLY SHIT.I totally moodswinged from left to right man!

So,the nightmare continues..or rather,is to be continued.

The reason i don't want to continue is because firstly,she always eats up my time!(AND PLEASE,I DON'T CHARGE HER FOR THAT OK?)She's pushing it too far already.From eating up 15 mins to half an hour and sometimes,45 mins.

I can't stand this shit.

And when i want to charge her more,she can tell me this.

'oh,if you increase maybe about $10 i can still afford lah.but if more,i can't.'

I was thinking to increase a hundred bucks,lady.ONE MORE ZERO ONLY.

So you must be thinking 'wah,you think you who?increase so much.'

That's the thing.I thought that's the only way she will 'let me go'.I thought.Damnit!Ok,she's probably isn't as bad as i described her to be.She's just kiam siap,quite kiasu,likes to haolian,eats up my time,reached later than me and well,I THINK that's all.Not that bad right?;p

Alright,i'd better hit the sack now.WORKING TOMORROW.................................


this is what boredom does to people like me.i know it looks damn primary school,i don't need any comments.