Cindy.Chen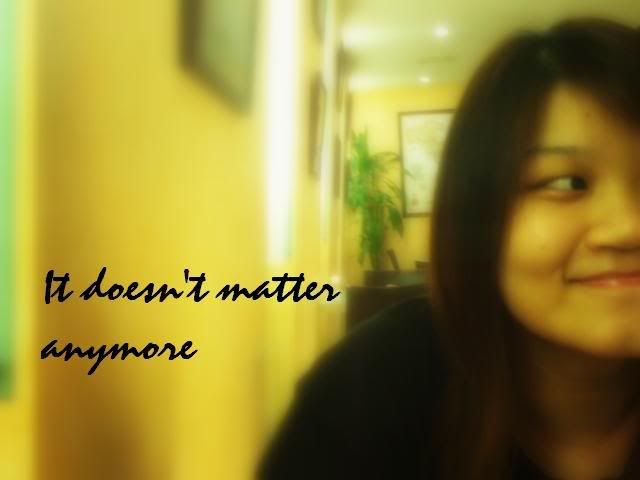 About ME


+25th Jan 1988.
+20 years old
+PSBAcademy.
+mhss.
+family.
+music.
+travel






Saturday, January 05, 2008

I was chatting with Sandy on MSN awhile ago and that 'bang-cock' girl is full of shit!She msged me out of nowhere and started the 'bench days' in secondary school.

We were wishing each other for good things to come our way and every sentence she ends with a..

'BY THE POWER OF THE BENCH!'

So,BY THE POWER OF THE BENCH,it is.

Anyway,the 'bench days' goes all the way back to year 2003 which is,OHMYGOD,5 years ago!?!That's fricken fast!

The group of us,GIRLS ONLY includes..

1)Sandy a.k.a MiniMe a.k.a Bang-cock
2)Karen a.k.a Bitch
3)Amarjit a.k.a Amar also pronounced as AH MA
4)Yvonne a.k.a Vonnei pronounced as Vor-nei
5)Helena a.k.a Luohan
6)Cindy a.k.a BHB QUEEN a.k.a The ever so lovable and amicable girl.OH!who is by the way,yours truly:)

I think that's all.

We'll always go to school early just to sit at the bench and looked at the people.From teachers to students,people walking up from the ramp,people climbing up the stairs,people from the 2nd floor looking down,everything.

Yes,the mention of the bench always bring back lots of memories.

Then,it was MSN with Kim Carter,another 'ki siao' girl.She gets 'boy crazy' very easily,EASIER THAN ME OK!?That's why i think she'll be the last person on earth to ever become a lesbian.

HAHAHAAH!Don't kill me Aaron Carter's relative.

Wahhhh,shiok not kim?Aaron Carter's relative.Don't be ah.Nothing to be shiok about.

So anyway,we were talking about IRC.

This then reminds me that i'm a soon-to-be-not-a-teenager-anymore.SOON-TO-BE but i am still one.

I was telling her we used to put '13/f/sg'(although most of the time,i don't put my real age,duh?!)when people asked for ASL,sai,ASL OMG!But now,if we were to start the IRC craze again,we'll be '20/f/sg'.

HOLY SHIT,that's fricken old.

Then probably i wouldn't say my real age again(duh?!).So,i'll be 13/f/sg.

Ok yes i know i'm damn lame.I will go repent right after this.

But before i do so,here's a clip you guys really have to watch it!I LAUGHED TO TEARS EACH TIME I WATCHED IT!It's actually a very old clip but the other day,kim was showing me again which triggers me to put this here.

EMOOOOOO!!

NANDE!!WEI XIA MI!!WHYY!!!!