Cindy.Chen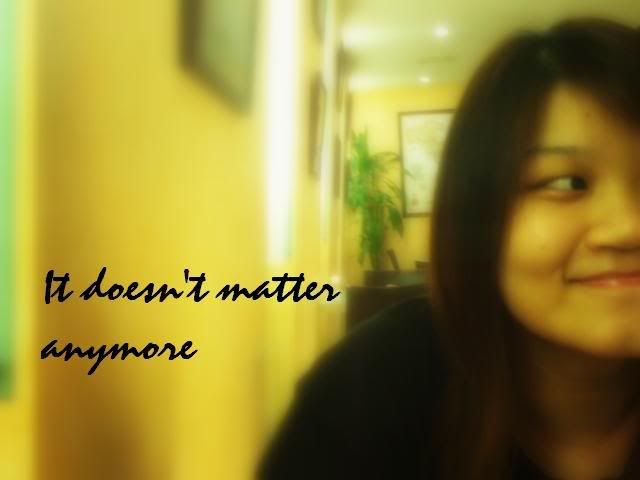 About ME


+25th Jan 1988.
+20 years old
+PSBAcademy.
+mhss.
+family.
+music.
+travel


Monday, September 01, 2008
It's September already!!Wake me up when September ends.Oh yea,not funny.
For some reason,i get very irritated when people can't differeniate simple words like 'then' and 'than'.Is it really that hard to know when to put which?

'It's okay than.'

Nothing personal.It's just..i don't know why but it's really annoying.AND..the difference between 'ur','u r' and 'ure'.

Like,what the hell is 'ur funny'.Or,'ure head'?

UR = YOUR
URE = YOU'RE/YOU ARE

GOT IT?!

If you don't,then just type out the full word.

Can you imagine when you're cursing someone on your blog and you make stupid mistakes like that?!Don't you know you're supposed to be flawless when you are putting others down?It's like me ending this post with 'See you guys than!'.Get the picture?!

Sorry,it's just me.PMS is coming,i can sense it.

Anyhooooos,went over to Miss Piggy's place on Friday night with Sam as it was her birthday.And YES!WE DID IT!!We managed to surprise her!WOOOHOO!OMG,you should have seen Miss Piggy's expression man!CLASSIC!!!!!!!!!!!!!!!She was reading the letters when we came out from her room with the cake and HAHAAHA!She literally threw the letters off from her hands and her face..her face.....HAHAAAHAHA!!I'm laughing as i'm typing this.

(yah,something like that.LOL!!;p)
So,after surprising her,we went over to Harry's Bar at Dempsey Road for a drink.As suaku as i may sound,i've never been to Dempsey before.I mean of course i've heard from people saying 'so and so cafe/restaurant is damn nice.Nice place to chill out' blahblahblah.So we decided to go there and have a look and my conclusion is,

Yah,it's nice.

Probably because it's located at some ulu place.You know,free from all the traffics..more like a country-side of Singapore,which makes it very relaxing.Did nothing much,just chilling out.We left shortly after as Sam needed to work the next day.

Saturday was nothing but bumming at home,like what's new right?I should start finding a full time job.As much as i hate my everyday to be burnt from working,i need those moolahs to get the things i've been eyeing for and of course,to prepare for my 21st..already!:)

Not that i'm looking forward to growing a year older.No wait,it's gonna be 2 years you know why?My birthday falls on CNY EVE.Thanks ah.So technically,i'm 22 next year.

Sunday was work and yay,i got teacher's day presents too!Working there has been nothing but joyous because of the kids there.They kept me going even when i'm super fed up with the management(still am)and always lifted me up with their 'Good Morning,Miss Cindy!' when i go in late for work and know that i'll be in deep shit.Did i mention there was once,i saw Gordon(one of my fav kiddo)looking at me for a long long time and when i asked why was he looking at me,he smiled and said,'I like you,Miss Cindy!' and before i know it,the rest of the kids were like,'I like Miss Cindy too!'.

It's so heartwarming,really!

But soon,i'll have to go.In the meantime,i know they'll get me through this:)

Anyways,i slept at 9pm last night and only to wake up at 11.30am this morning.That's a whooping 14.5hours of sleep!!Oh no,wait.Inclusive of the time i woke up in the middle of the night for a pee and tossing and turning in bed,only to knock out after 2 hours.

I shall officially declare..I HATE PEE-ING IN THE MIDDLE OF THE FREAKING NIGHT!!

I can't get to sleep after that!!

Okie dokie,gonna end this post with a few pics taken on Fri night.Ciao!