Cindy.Chen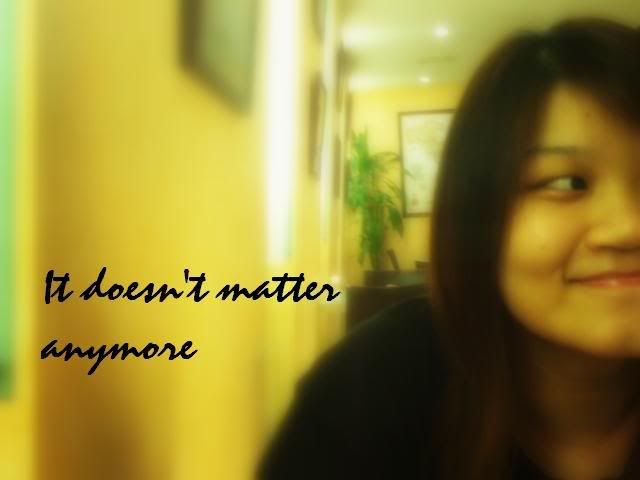 About ME


+25th Jan 1988.
+20 years old
+PSBAcademy.
+mhss.
+family.
+music.
+travel






Thursday, January 31, 2008

Stop telling me about Edison and his photo scandals.

For the first time,i actually bought Lian He Wan Bao to read because while i was on the bus yesterday,i saw this uncle holding the newspaper and the person on the front page looked like Edison.

I think the uncle caught me looking at his newspaper,he selfishly flipped to the next page while my head was tilted in a really awkward position.

I WAS TRYING TO SEE THE PICTURE WHAT!!

Initially,i was still contemplating whether to buy or not because i wasn't sure if it was Edison.Then when i came home,Wiki called and asked if i've seen the chinese newspaper and i immediately asked my maid to buy it.

Sigh,what can i say?

I've been his loyal fan since sec 1 and of course i know he's notorious in some ways but this has probably gone too far man.

If it's really a photoshopped case,then good on him.But if it's really what it is,though being an avid edison fan for,let me see,7 years?All i have to say is,orh-bi-good.I just don't understand why do people take pictures or videos of their own private life.

It's PRIVATE life not PUBLIC life.

And that Gillian Chung.

So much for thinking she's so sweet and innocent.Such a disappointment.I really hope it isn't her though i think her image and reputation has already been tarnished to the maximum.

No,i'm not trying to say celebs can't have sex life.Or that they should be a good role model because i think that's bullshit.They are only human.

Nobody is perfect.We all make mistakes.But their only mistake is to have it taken on a camera.

Why Edison,WHY?!Now that the whole world has seen your lil' precious(if the photos were real),your precious isn't as precious anymore.You have fulfilled a girl's lifetime dream from all over the world.They've all seen it the same time as me,which is fricken not fair.But then again,life's never fair.So,damnit!

You are an idiot if you think i'd be over the moon on seeing those pictures of Edison.Seriously.

And to hell with that person who started circulating the pictures online!No life.It's fricken awesome to see someone's life/career going down the slope,ain't it?!

Anyways,i've gotten a job at Singapore Flyers!:)

And no,i haven't quit my other jobs yet and i don't intend to.The timings are so flexible i don't think i can find any other jobs like them again.

Most importantly,i enjoy what i'm doing!:D

During the interview,

Manager:So,you're applying for a second part time job?
Me:No,third.
Manager:-stunned;flips back my application form-
Manager:Are you serious?!
Me:Yah?

And he looked at me with a very amazed look on his face.

Actually i'm not really as 'chiong' as it may sound.THREE part time jobs.It's really not that tiring.Reason being is because like i've said,the timings are super flexible!It's as though i'm my own boss.I feel like working,i work.I don't feel like working,i off.

HAHAHAAHA!

Tell me lah,shiok not?!

That's why i'm constantly telling myself how lucky i am.;)

So yup,training starts this saturday.Not really looking forward to it though but i know it's gonna be a very good experience.

Oooooookies!Shall upload pics from yesterday.It was my mom's birthday.


HER MASTERPIECE.TRUST ME,SHE TOOK THE LAST PIC HERSELF OK!?


moodswing.clockwise:i don't like you;happy;angry;cry.Super cooperative she.


hahaa!


TEN THOUSAND YEARS NEVER BRUSH TEETH!


mommy


hahaa,for once i think she's cute..and super white!