Cindy.Chen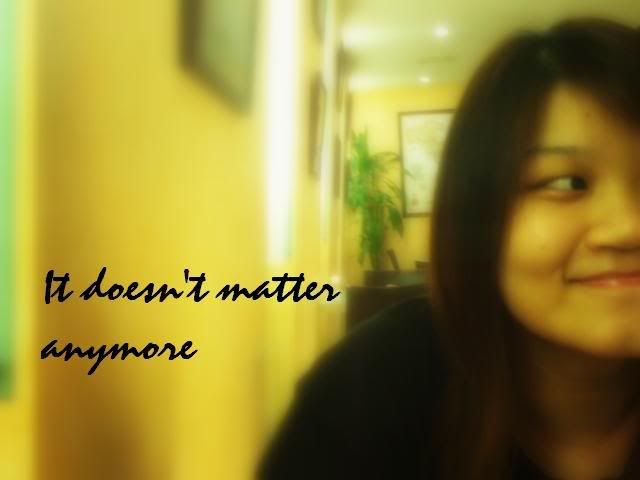 About ME


+25th Jan 1988.
+20 years old
+PSBAcademy.
+mhss.
+family.
+music.
+travel






Wednesday, January 16, 2008

Today saw me out with Elena to Sentosa.It was very impromtu because i was already on my way home before she called me.I didn't know i was so ON because usually,or probably 99.9% of the time,the moment i reached home,there is absolutely NO WAY to get me out of the house again.Don't tell me stupid things like what if there's a fire.YOU TELL ME LAH?!IF GOT FIRE WILL YOU STAY IN YOUR HOUSE?!Stupid.Ok,i don't know who i'm scolding but trust me,there really is such stupid people around.

So yup,she was lucky.I think she should go buy 4D or something because if it's Miss Piggy,she'll be like,

Miss Piggy:WAH,must buy 4D today!

OR

Miss Piggy:WAH,must write in my diary today!

Seriously,my impression of her diary is a diary with never-ending pages.She's been saying 'wah,must write in my diary today!' since 2003 and it seemed that she has never mentioned anything about getting a new diary.Why must she say right,you must be thinking.I KPO CAN?!

Anyway,back to Sentosa.

We went over to Siloso beach and just sat there and talk.It's always great catching up with her because i only get to see her probably less than 10 times in a year.Yah,that pathetic.That's why we can't wait to get our licenses so that at least meeting up won't be like 'huh-so-far-ah',you know what i mean?

I know,i know.We'll probably not keep up to our promises but at least that's what keeps us motivated ok.At least for me.

So after which,we went over to Palawan beach but it started raining so we went over to foodcourt and then to 7-eleven for some snacks.Bathed and everything and decided to head home.

Nothing much but it was damn funny talking her.BLUR SOTONG!OH!ELENA LIM SAID SHE WILL BRING ME TO FULLERTON HOTEL TO EAT ON MY BIRTHDAY!!PLEASE WITNESS AH PEOPLE!!IF SHE DOESN'T BRING ME,I WILL DECLARE WAR!!



13 years and counting best friend!=)


ABUSED!Fricken pain ok ELENA LIM!


trademark smile.


yah lah,i'm white lah.


=)


tsktsk,ah lian.