Cindy.Chen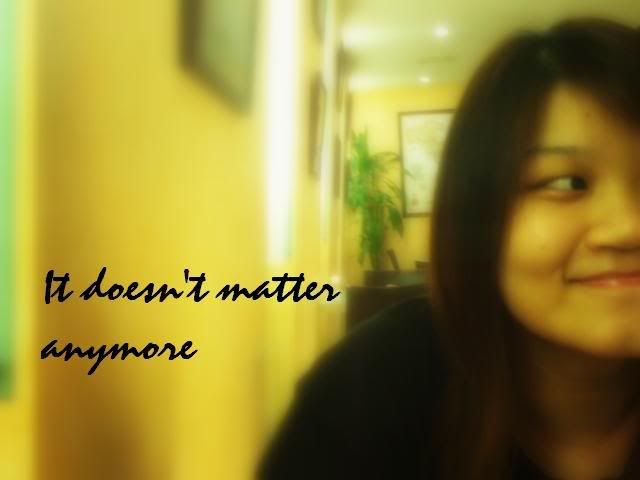 About ME


+25th Jan 1988.
+20 years old
+PSBAcademy.
+mhss.
+family.
+music.
+travel






Thursday, January 03, 2008

Well hello people!First post in 2008:)

I guess school/work has started for most people,whilst for me,i'm just gonna wait till 10th of jan for my marketing exam.In the meantime,i'm not gonna procrastinate and just start studying for it before it's too late.

Quit procrastinating is one of my resolutions in 2008.

YAH,HOPEFULLY I WILL STICK TO WHAT I SAY!

I called up the school,thinking to register for my course but guess what?The intake is FULL!!DAMN!This means that i'll have to wait till about April for my course to commence.I've been friggingly wasting too much time!Luckily i don't have to do NS,if not......

Anyways,i think i'm gonna get myself a full time job this year.Errrr..yes,another resolution!I'd better quit all my other part time jobs since i don't really see myself making enough money to get by!The feeling really sucks.Major priority is to STOP TUTORING THAT STUPID WOMAN!

So,yesterday saw me out with my cousins for shopping at GWC.There's sales everywhere!!Very typical Singaporean,i know but i heck!

Anyway,while walking to the bus stop with miao,we came across this woman.Miao then quickly pulled me one side and told me to look at her legs and OMFG!!!!!!!!

*de de de dengggggg*
HORROR OF HORRORS!!

You wouldn't believe she's a woman just by looking at her legs.



(this is only the backview.THERE'S MORE INFRONT)
She's more hairy than a man!Sorry,i'm not being mean but it's true!Although i'm quite man myself,but really,you'll be shocked if you'd seen it.

After we reached TBP,we came across another woman with a really big mole on her leg.I was telling miao at least it isn't as bad as that woman with unshaven legs.

YOU CAN SHAVE HAIRS,NO?!

Okay,maybe she has her reason.Then don't wear a skirt.

No karma on me please.

Aiight,off to tv session!