Cindy.Chen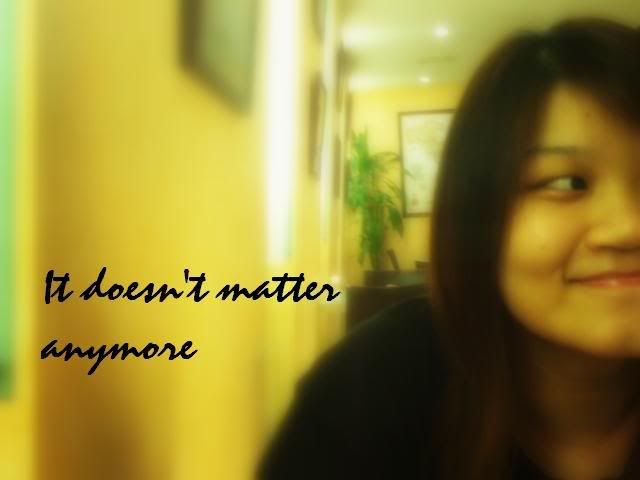 About ME


+25th Jan 1988.
+20 years old
+PSBAcademy.
+mhss.
+family.
+music.
+travel






Saturday, February 16, 2008

Morning!

My body clock has been acting weirdly.No matter how late i slept the previous night,i will automatically wake up before 11 the next day.Actually,i think it should be a good thing.If not,waking up in the morning has always been a drat for me.

Yesterday was down to Ruiza's place for CNY visiting.I know,who still go visiting right?!What to do?She busy,i busy,everybody's busy.It's not easy to find a time when everyone is free man!

So after that,her mom dropped us off at Far East Plaza because...RUIZA HAS TO WORK!!

WAHHH,sound damn weird.Ruiza working?YAH,SHE WORK I SLACK.COOL MAN!!How often do you see that!?

Anyway,being a good friend i am,i accompanied her all the way from the time she worked till the time she knocked off.Tsk,seriously,my friends should learn to cherish me.I'm almost extinct.

However,being a good friend aside,i think i jinxed the shop.

NO SALES at all please.

She was saying this is the first time there's NO SALES at all.She broke the record and blahblahblah.Harna,bottomline,i'm a jinx.

I AM A JINX!

HOW AH?!:(

So after knocking off,we took a bus down to Newton for dinner with Henry(ruiza's bf)and her mom.Yah,i'm such a lightbulb.

Oie!But they didn't mind me being the lightbulb what.Maybe they do lah but they didn't say mah.So i will just take it as no.

HAHAHAHAHAHAHAHAHH!

I don't have a choice,do i?My friends and i mean MOST of my friends are attached!OMG,come to think of it,yah ah.Those whom i'm close to.Even miao is attached!Ok,i will do some self-reflection later on.

ANYWAYS,
We ate quite a few things and i was bloated to the max.Came home and had diarrhoea.Such a waste of food.HAHAHAA ok,i'm being gross.

Ok anyway,back to Singapore Flyer.

It was fun!

The people there are nice,uniform like cock but it's ok.

The first day was all the VVIPs and VIPs,some were cocky,some were nice.Luckily i attended to the nicer ones.We had to carry this board that has the company's name on it and hold it high up so that the VIPs know where to queue.

So behind me were all the employees from the company which i'm holding and then they started chit-chatting.So they started talking to me as well and asked me if i'm still studying blahblahblah and finally,it was their turn to board the wheels,they were each given a binoculars to overlook the island.

Then,this uncle..

Uncle:binoculars for what?
Me:oh,you can actually overlook Malaysia and Indonesia from your capsule when it's at the top.
Uncle:really?!cool,then i can see what the women in Batam are doing!
Me:heh?

Wah lao,lao ti ko.

Yup,that's about it.

I told you my life is so mundane it only consists of working and studying and the only thing to make my my life interesting is to meet some random funny/weird/cocky/funny/weird/cocky/funny/weird..ok enough.

Is to meet some random funny/weird/cocky people along the way.

Ahh,tell me about it.