Cindy.Chen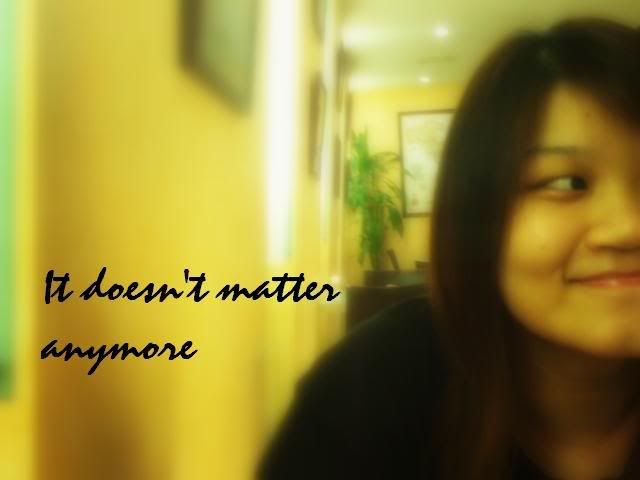 About ME


+25th Jan 1988.
+20 years old
+PSBAcademy.
+mhss.
+family.
+music.
+travel


Sunday, February 10, 2008


Remember in one of my earlier posts,i said i will love whoever to death if the person buys me a dozen of ROYCE chocolate?

I shall announce the lucky winner.....
.....
...
..
.

ELENA LIM TING!!!



Fine,i know you will most likely be thinking 'eeee,who want to be that WINNER'.I CAN'T POSSIBLY SAY WHO IS THE LOSER RIGHT!?!*roll eyes until eyeball stuck*

Ok,she didn't buy me A DOZEN but she bought me 3 boxes!I'm already more than happy can!?!WAH LAO,she really deserved to be my best friend!:)

I mean the other 3 short musketeers too lah!The damn good SINGLLYWOOD actresses!HAHAHA!I'm really glad to have such good friends around!:D

So anyway,Elena,Miss Piggy and Sam(and Sister Zaw joined us later)came over to my place for initially some LO HEI session but guess what?Our 'yusheng' doesn't have all the MAIN DISHES,only the seasoning.So in the end,no LO HEI!!:(

BUT....!!I was on a winning streak man!Won quite abit but poor Elena and Sam,they were on a losing bet.It's ok lah babes,there's always a NEXT YEAR right?;)HAHAHAA!

I guess CNY is becoming quieter each year.Other than day 1 itself this year,the rest of the days i've been staying at home doing nothing but eating those new year goodies.

GOODIES indeed.Goodies which caused me to have constipation,pimples,sore throat and pimples.

And angbaos are getting lesser!WHY HUH WHY!?!The other day i was complaining to my dad why is my angbao getting lesser and lesser each year and,

dad:eh,counted good already leh.next year u wait and see lor.

OK,thanks for the hint dad.

I know,i know.I'm not getting any younger and i shouldn't be asking for too much but oie!I'm barely an adult for god's sake.Then when next year comes,i've got nothing to say.So i shall take back what i just said.

TSK!This is terrible.To think i was happily writing down how much i would be getting this year and the bills that i can FINALLY clear with the angbao money.ARGH!STRESS!

So tomorrow will be work as usual and monday will be my first day at Singapore Flyer!I think i should really,just get a full time job.What say you?

And..i don't know what's up with everyone!EVERYONE and i mean EVERYONE!The first day of CNY,my cousins were all making fun of me and kept telling me about Edison's scandal and blahblahblah.Yes,the whole world knows that i'm crazy over him.Then,miao came over to my place and she was like,

miao:cannot,i must talk to edison.i must ask him why he like that.

Those who came to my house before will know that even before you stepped into my room,you'll see a gigantic poster of him.So,she walked in and started blabbering shits.

Whatever happened,it's over.Disappointed yes,but you really can't deny he's hot.I already said i don't care if his weewee is as small as my baby nephew's,as long as his looks is still intact,he is still Edison.And that's the only reason why i liked him.FULLSTOP

LOL!I speak as though i know him personally.



money money money!!$kaching$