Cindy.Chen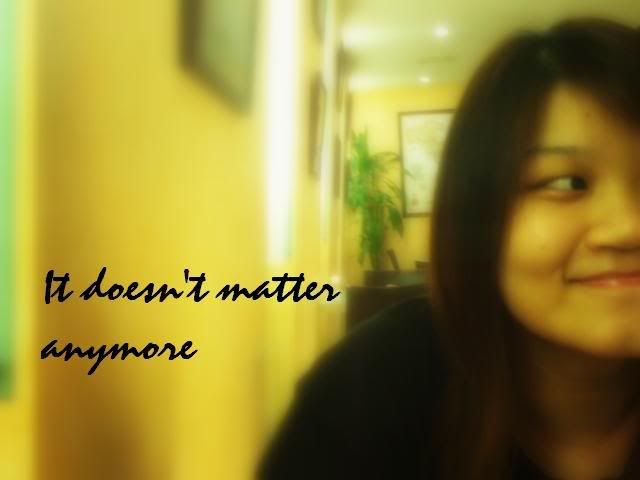 About ME


+25th Jan 1988.
+20 years old
+PSBAcademy.
+mhss.
+family.
+music.
+travel


Friday, April 18, 2008
Hurhur!:'(

So my ipod finally died on me,after drowning for so many times.What can i say?The first time it almost drowned was the day i got drenched with Miss Piggy while we were going to school.

The 2nd time was also because i was caught in the rain.

I should learn to carry an umbrella around already.

And the final time?

The cap of my water bottle wasn't closed tight enough and my whole bag was flooded and the very first thing i saw when i opened my bag was my poor little nano floating on the water.:'(
R.I.P nano.You have been good.Better than those poster boys.Bus rides have never been lonely ever since i met you 2 years ago.You were always there for me.You put me to bed when i can't tahan the snoring from my mom when we were in Taiwan.No amount of pillows could helped except YOU.
My mood changes with the songs that you played.What would i do without you?
Nano..why?WHY!!!!??!I almost wanted to get you a water-proof cover already and then you die!WAH LAO!!:'(
Anyway,remember i talked about the solar film thingy?This is how it looks like.Like a tinted glass.

So,this is how my room looks like when i close the windows when it's 11.30 in the morning.

And this is how it looks like after i opened up the windows.

See the difference?
'Carrot bread.'

OK YES,I HEARD YOU.
'EEEEEEEEEEEEEEEE'
But the thing is,i really can't taste the carrots lor.
I guess those of you who knows me well will know that i'm a bread-lover.So i'd try almost all kinds of bread which i'm attracted to.
If there's ever such thing as a beef bread or anything like that,i'd most definitely try it!
No really,i'm kidding.