Cindy.Chen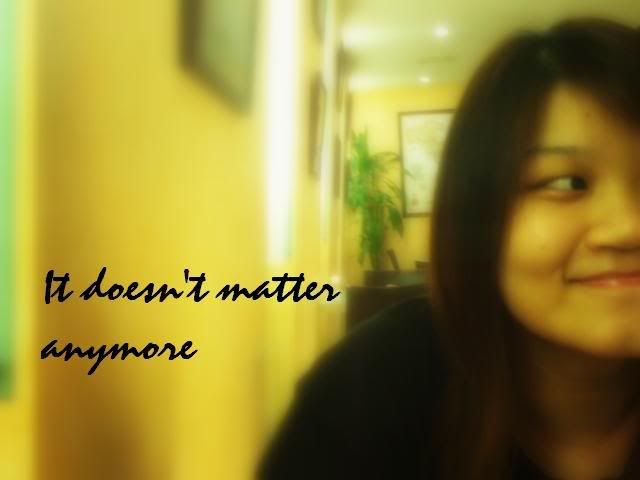 About ME


+25th Jan 1988.
+20 years old
+PSBAcademy.
+mhss.
+family.
+music.
+travel






Thursday, April 03, 2008

I think the screw is loose somewhere up in my head.

I'm actually very addicted to the songs from High School Musical 2.I'm dead.Soon,very soon,you'll see me snatching the CD away from my younger sister.Yay!

I can never forget that period when Disney Channel kept on repeating the show and my younger sis will be sitting right infront of the tv,watching,eating and even sleeping with the tv switched on.Why?The songs are her lullabies.

It almost drove me nuts!

And now,i feel so ashamed of myself.Shh,she must not know this.Ever!

Anyways,went for my driving just now and damn,i suddenly feel driving is very stressful.No,the instructor karen introduced to me is damn nice.In fact,i think he's too nice already.Too nice until i feel the pressure to pass the test.Really!

But then again,i know i shouldn't have high hopes on myself.Ok,take it easy baby!

So,back to my work.

I've been working at the childcare lately and can i complain,again,that i hate working,again?

This girl recently joined us as a part time faciliator and may i say,she's one helluva KAY KIANG SI GINA!

Working is never the same again with her around.

You see,the thing is,she's new right?But she act like as though she knows everything and REFUSED to listen to you although you worked 1/2 year earlier than her.I'm not trying to say i'm some laojiao or anything but please,show some respect can?

The other day i left a note telling her NICELY to take note of certain things and guess what?The next day when i went to work,she showed me her si gina chao face.

Asshole!

I'm not in the wrong for shit's sake!It was the owner of the centre who wants it that way,i'm merely carrying out orders,damnit.

So this is what she has to say.

*O,using her super bo gum wan voice:Oh yah,i read your notes already.By the way,i wasn't the one who.....[yakking away..]
Me:I'm just telling you what i was being told.That's all.
*O:[yakking away again...]if anything,you just tell Mrs S to ask me lah.
Me:Oh yah?Then what if you're not working on that day and i'm on duty?
*O:Just ask her to call me.
Me:Bitch.

*O = Si Gina

I didn't exactly say out bitch to her but obviously my actions speak louder than words.

See,what an ass.

It's sad to know such people really do exist.Sigh,what to do?

Now,i'm dreading to go work.