Cindy.Chen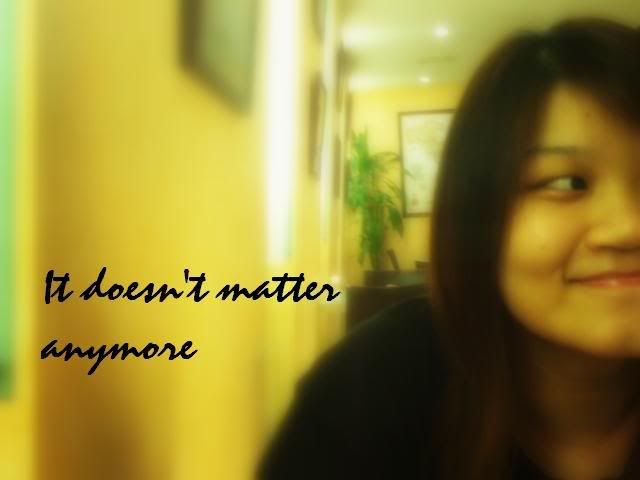 About ME


+25th Jan 1988.
+20 years old
+PSBAcademy.
+mhss.
+family.
+music.
+travel


Thursday, April 17, 2008
Just came back from work awhile ago and received a very delighting news from dad that my cousin has given birth already!!YAYYY!!!!

JON PAUL IN THE HOUSE!!:D

I can't wait to see him!!!

It's so creepy!I happened to put 'I CAN'T WAIT TO SEE YOU JON PAUL!!' as my MSN nick just 2 days ago and now,my dreams came true.HAHAAHAH!!

:)

Had dinner yesterday at the thai restaurant near my place again.This time with Miss Piggy,Sister Zaw,Ruiza and Henry yesterday and it was goooood!Talked and laughed alot and it feels so good to see people from strangers to becoming friends.Like Henry and Zaw,both 'rockers'.I guess it's also because of their age.I'd say their thinking are much more mature than those of our age.*ahem*(if you know what i mean).But then again,i think only piggy knows.

Anyways!I think the lady boss loves me to death already.I brought Karen and Michelle(Karen's friend cum instructor's daughter)the other day and she was already thanking me for bringing people there.But oh wells,i think they deserve the publicity.

OIE!DON'T PLAY WITH MY CHIN,YOU!!YES YOU MISS PIGGY!
HAHAAHA!i just couldn't stop laughing when i saw this pic!i might need to take back my words about them being mature.especially the one on the left.
"ROCKERS!!"
myself and ruiza.my head looks 5 times bigger than hers..hai,it's better to take with piggy.HAHAHAHAHAHAHAHHAHAHAHAH!
done by miss piggy!:)