Cindy.Chen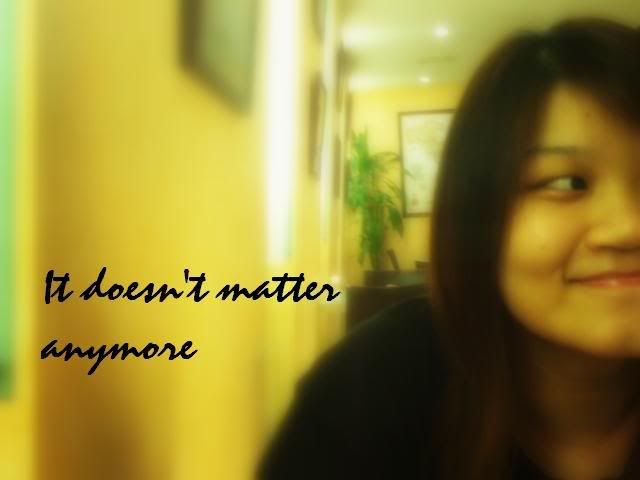 About ME


+25th Jan 1988.
+20 years old
+PSBAcademy.
+mhss.
+family.
+music.
+travel


Tuesday, April 29, 2008
So,Miss Piggy and myself are all set to go BKK this coming May.It's confirmed!!NO MORE 'let's go here and here and here' but nothing was done.

All thanks to Miss Piggy.

She's like my personal assistant.HAHAHAAH!She did all the bookings for the tickets,hotel and etc.Eh pig,this shows that i trust you and thinks highly of you hor.Be proud!;)

My sorethroat is coming back.Oh yes,i definitely know the reason now.I gobbled down one full bar of chocolate while chatting with Celine yesterday.That wasn't my plan ok!?!We were webcaming and at the corner of the window,i was looking at the way i'm eating and the next thing i know,the chocolate bar was out of sight already.

And the dread-est thing to do after eating that full bar of chocolate?No,not about the weight.I've given up on that already.It's the amount of water i've to gulp down to make my throat feels better but not my bladder.

You know how irritating it is to get up every hour in the middle of the night just to go to the loo!?!!!

And when i refused to let that happen,sore will come knocking at my..throat?Not funny,i know.I'm just trying to be humorous ok?Yes i heard you,try harder.FINE!I WILL HAVE SORETHROAT.damnit!

My dad is going to Japan today.Wah lao!He's been travelling around and it's bloody not fair lor.First to Korea.Then now this.He should at least take the initiative to like,ask us or something right?

What's the world coming to?
Daughter slogging hard while dad goes on a holiday.
LOL!!OK NOT LIKE HE'S SPENDING MY MONEY OR WHAT.I'D LOVE TO LET HIM BUT MY PAY IS SO PATHETIC YOU WON'T BELIEVE IT.
My 1 month's pay = Celine's 1 flight pay.
And her 1 flight is only what,40 mins!?!40 mins already beat my 1 month don't know how many million minutes.Bimbo job pays good man!
Speaking of which,she's coming back while my dad is out of the
country.WOOO,airport is almost our 2nd home already.

I was browsing my Nuffnang page a while ago and i came across this 'Keyword' section.It's like when a person google/yahoo that particular thing they are looking for and if my blog happens to be in the search engine and if the person clicks on it,the keywords which they google/yahoo will be shown in that section.
Say,i google 'Edison Chen'.There will a whole list of things which are related to Edison.Yah,stop thinking about those racy photos!So if my blog happens to be in the search results for 'Edison Chen',and if i click on it,the keywords will be shown as 'Edison Chen'.Understand?
So i was looking at the keywords and,can anyone explain this?!!!!?
I'd like to think that the word is shortform for 'come' and not the real 'cum'.And,why would that keyword be found on my blog!?!?!!Holy shit.

I don't know how to end this but i will end this like this.