Cindy.Chen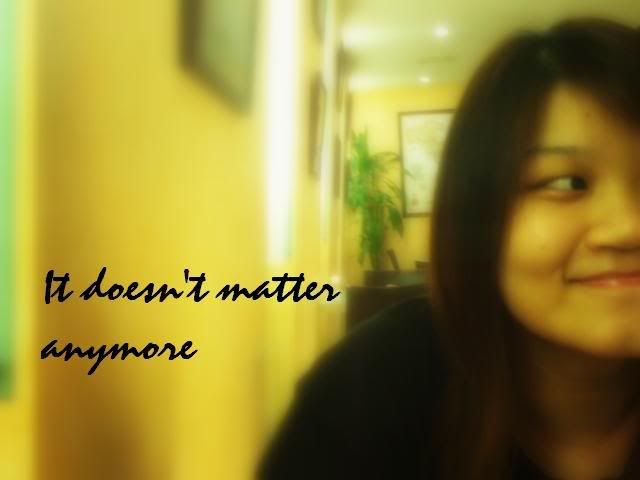 About ME


+25th Jan 1988.
+20 years old
+PSBAcademy.
+mhss.
+family.
+music.
+travel


Tuesday, May 06, 2008
First and foremost,

YES!!I PASSED MY DRIVING TEST!!!!!!:D

I couldn't get to sleep at all the night before the test but somehow,i managed to force myself to sleep since i have to wake up at 8am the next day.

So the day came and i actually 'laosai' before going out of the house.

It seems that whenever i get nervous,i'll find myself constantly farting and having the runs.It's not like i can help it you know!

Did the warm up and everything and was slightly more confident to pass than the first time.So i went in the room,waited for the tester to tell us what to do and etc and did the balloting and i got the easiest route(in my opinion)and the best tester(as quoted from my instructor).What more can i ask for?!

I told my instructor who my tester was and he was like,

instructor:wah,you are super lucky man!he's damn good,in fact,the best tester around!i tell you,if you fail ah..i will kill you!
me:okay..
instructor:yah,although he looked damn fierce..like streetfighter,but he's really very good.if you fail i don't wanna see you already.

LOL!!Streetfighter.
So yea,it kinda give my confidence a boost.

Everything was okay until the STUPID PARALLEL PARKING,AGAIN!!!!!!!You know,i was quite confident that i will get it over 'swee swee-ly',i mean,since my lessons and warm up were all good,in the end..i strike the stupid idiotic irritating kerb,again!!

WAH LAO!

He was like,

streetfighter:hor!strike kerb ah!
me:h..m..m..(on the verge of crying)

Eh,serious man!I was really on the verge of crying!So i gave up the thought on passing.Went up the room;streetfighter lecturing;still lecturing and when i saw a big ZERO on the immediate failure box and a '1(-)' on the total score,i was on the verge of crying again!!

WAH LAO!!

YOU KNOW HOW RELIEF I WAS OR NOT!!!?!?

I quickly ran down to find my instructor and..

me:I PASSED!
instructor:yah,i know.

Hahaa!So calm somemore.Anyway,i really thanked the instructor!He's really damn good.But of cus,Karen also deserves some credit for recommending lah!;)

Today saw me out with my dad and Celine to do the insurance thingy for the car.Don't ask me why so kiasu,i don't know.It wasn't me ok!?And then off to my cousin's house to visit my newly-born nephew!JON PAUL!!!DAMN CUTE!:)But he doesn't look very angmoh-ish now,but i love his eyes!


isn't he cute?!!?!!?!awwww!

Anyways,please go try 'Passion Fruit Meringue' from The Patissier!!IT'S FRIGGIN GOOOOOOOOOOOOOOOOOOOOOOOOOOOOOOOOOD!!!Worth the bucks man!;))

PASSION FRUIT MERIGUE!!FRIGGIN DELICIOUS!!!

advance birthday girl
dad and celine
celine,dad and myself

celine and myself
School resumes tomorrow.Urgh!I really hate the thoughts of 'adapting to a new environment,meeting new people,new books..etc!'.A WHOLE NEW CLASS.Great.
Weird,but,i don't even care if there's gonna be cute guys in the class.
I hope school will be good to me,which i seriously am very skeptical about it.I have friends who are in the same course and are already complaining about the amount of projects and work and stress they are facing.
Soon,it will be my turn.
How nice.