Cindy.Chen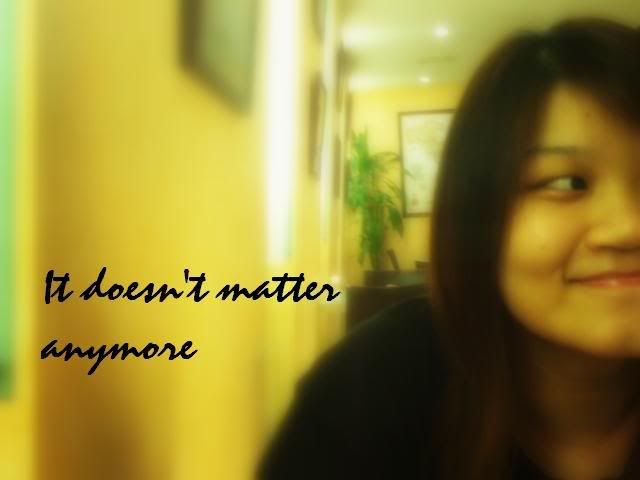 About ME


+25th Jan 1988.
+20 years old
+PSBAcademy.
+mhss.
+family.
+music.
+travel


Sunday, July 20, 2008
Just when i was about to declare i'm officially broke,there,on the table,lies a sealed envelope with my name on it.I opened and YAY!!!A CHEQUE!!WOOOHOOOO!!So now,i'm officially not that broke!
:):)
Sucks to have no money in the bank.And what's worse,when your (as quoted by friends of mine) never-ending angpow money runs out,you will really get the taste of being broke.It's pretty damn pathetic!Last month was the worst!EVERRRRR!The thing is,i've never really being broke-broke.In any case,i'd still have my angpow money in the safe.It's not that it's NEVER-ENDING,it's just that i kept it for really really really really really extremely emergency cases.So yes,after last month's financial crisis,now the so-called 'never ending angpow money' has finally finished.I used up almost all of it!:(I still managed to save a packet or 2 but then again,i think it's not gonna last me for very long.
But i know for sure,after last month's crisis,i'll make sure i won't allow myself to have to go through that ever again.
Anyway,just came back from MJ session at Christy's place not long ago.I was actually on a losing streak but don't know why in the end,i won all back.So yea,i quickly stopped playing and Kelvin took over.
School break is finally in.2 weeks of school break and i make sure i'm gonna 'chiong' for my Quantitative Skills!Not gonna waste my money and retake the exam.Hopefully i don't slacken myself this 2 weeks.Cindy,just endure..2 weeks only and you'll be FREEEEEEEEE!!!From Maths,that is.