Cindy.Chen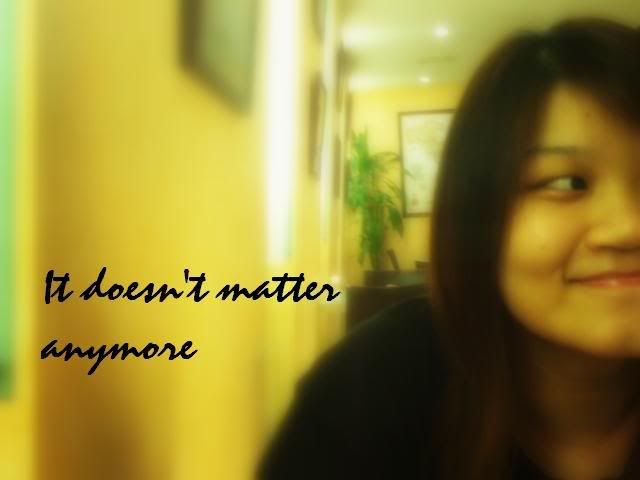 About ME


+25th Jan 1988.
+20 years old
+PSBAcademy.
+mhss.
+family.
+music.
+travel


Sunday, August 17, 2008
So,i went to collect my phone today.And for the first time in my life,i was so pissed off i decided to write a complaint letter to Nokia.
'I'd like to say i'm very disappointed with your technical support system.

I've sent my phone(E65)for service on the 16th of August 2008 at Nokia,Parkway Parade.My phone is still under warranty.However,i got a call from one of your staff on the day itself and she told me the technician found some liquid substance in my phone and that i'd have to pay $150 for the repair.

She went on to tell me that the warranty only covers the 'external components' of the phone so without further ado,i told her i'd like to cancel the repair.

I went back to take my phone today(17/08/08),and to my disappointment,my phone was in a worser condition than before.

Initially,it was only the LCD screen light which was giving me problem as it went off.
But now,not only has my problem NOT been solved,it's giving me more problems after i sent it to the centre.Apparently,there's this small black column at the right side of the screen which blocked the view of the battery and,it just gives a sudden 'pop' sound at the speaker when i tried using the phone.

The thing i'm most displeased with is that,your staff keeps telling me it's because my phone is already corrupted,which is why all this problems are surfacing.

This is NOT an excuse.

The phone was okay other than the screen light before it was sent for 'repair'.How can so many problems suddenly surface within a day?!Even if its so,i believe it takes time for all these apparent problems to start to surface instead of all coming at one shot,isn't it?

And,OBVIOUSLY i know my phone has some problems which is why i sent it for service.Would i send it for repair if it was okay?!

I've been a Nokia user for the past few years but after this incident,i'm really disappointed and have definitely lost confidence in this brand.'
Like,seriously man!
They can't even give me a straight answer when i asked them why has my screen become like that and etc.All they could say was BECAUSE MY PHONE IS ALREADY CORRUPTED.SHIT YOU PLEASE.
I swear other than the LCD screen light,everything was okay before i stupidly went to 'repair' the phone.I've never felt so angry in my life before it's like,they obviously made a mistake but refused to apologise and then blame it on the phone itself.Damn ass lah!
Yah whatever,like it would make any difference if they really lose this 1 pathetic customer,right?
Ass.