Cindy.Chen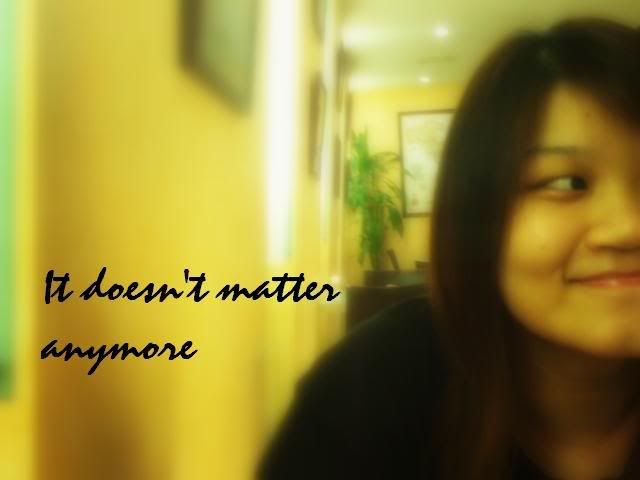 About ME


+25th Jan 1988.
+20 years old
+PSBAcademy.
+mhss.
+family.
+music.
+travel


Friday, September 19, 2008
I seriously hate going to the west side of Singapore!

The day before yesterday,i went over to my grandma's house after class and since i've got the car,i asked if she would wanna pay my aunt a visit.After much persistence,she finally gave in.So,we set off at about 9ish only to reach my aunt's place at 10.45pm.

Tell me about it!

I got lost in some ulu pandan place.No,as in..ulu place.My ah ma was so freaked out she kept asking if i know the way or not and if i don't,just ask the cab driver beside us to bring us there and we'll pay him for that.

She repeated that for at least 5 times.I kept reassuring her i know the way but i mean,action speaks louder than words.She knew i kept calling my cousin for help so i guess that kinda blew off her confidence in me.

When we reached my aunt's place,my grandma was telling them she was very scared and really,i felt like crying that instance.It's like,i don't know why.Then i kept telling me cousin,

'eh how ah..next time ah ma don't dare sit in my car already!'

So when we were about to go back,we asked my grandma if she wanna follow me or my cousin and my grandma was like,

'anything lor..if you on the way then i follow you,if not i'll follow (my cousin) car.'

See how traumatised she was?!

The next day came,i called her and asked if she wanna go my aunt's place again and surprisingly,she was like,

'you wanna go we go lor!but you sure you know the way?'

HAHAHAHAAAHAH!!DAMN FUNNY!

So anyway,yes,we went to my aunt's place again the next day.Brought my niece along and while the adults were talking,i brought my niece and sister down for some 'bonding' session.It's amazing she's growing up so fast!But still very adorable,except the part that sometimes,she speaks like an adult.I don't like kids who talks like an adult.

Wah lao!So small but wanna act like you know alot,very annoying you know.

HAHAHAHAHAA!

And it was home sweet home after that.

I don't know what's with her and that mouth.Trying to act cute..but ok lah,cute lah!


below my aunt's place

in the car
DAMN!Everyone's falling sick..and my friggin sore throat is friggin killing me!!:'(