Cindy.Chen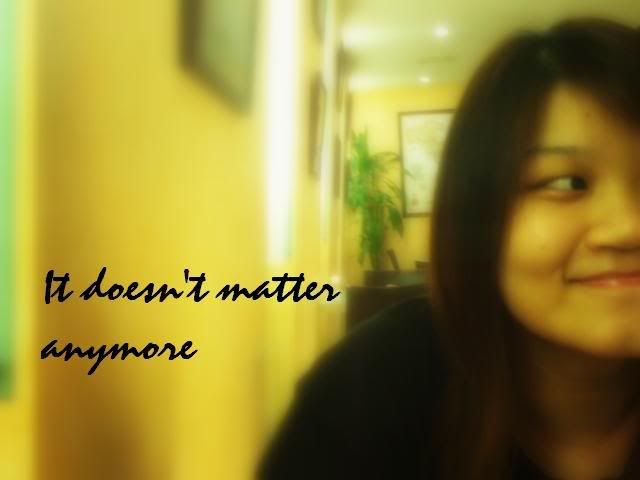 About ME


+25th Jan 1988.
+20 years old
+PSBAcademy.
+mhss.
+family.
+music.
+travel


Monday, September 15, 2008
'Shake shake,shake shake,shake it..'

This is the most annoying yet addictive song ever.When i was working at SingFest with Christy and co.,her friend,Jiayan,kept singing this to me.Chicken.I was so friggin annoyed that whenever the radio plays this song,i'd either switch channel or turn it off.

Believe it or not,i actually shouted at the radio when they played that song early in the morning while i was still sleeping.Erm..yes,i sleep ESPECIALLY WELL with the radio on.LOL!!A habit i can't seem to kick off.I tried but i'll end up singing myself to sleep.

Anyway,i'm so dead.I've got quiz on Wednesday and Friday for both my modules but i still catch no balls on what has been taught.You know how it feels not?It's like you go for class yet you don't know what's going on and ended up looking like an idiot sitting in the middle of the room with the lecturer yakking on and on and even though she caught you looking super clueless 3/4 of the time,she still went on without even asking if you understood what was being taught.Like as if i'd say i don't if she really asked me.

Yah i know,we're no longer in secondary school where teachers actually spoon-feed you and stuff but wah lao!It's like super obvious i we all have the 'what-the-hell-are-you-talking-about' look across our faces lor.I think my class can probably get into the guinness world record of having the most 'kiam pah' faces.Don't you feel like whacking people with the stressed up look?Ok,maybe not whack..more like telling them to CHILL MAN!!!
See what i mean?HAHAHAHAAA kidding lah piggy!
.
.
.
.
.
.
.
.
.
.
.
.
.
.
.
Don't you feel like whacking me ALREADY??Oh by the way,Carol,that's my husband portrait.YOU HAVE?????