Cindy.Chen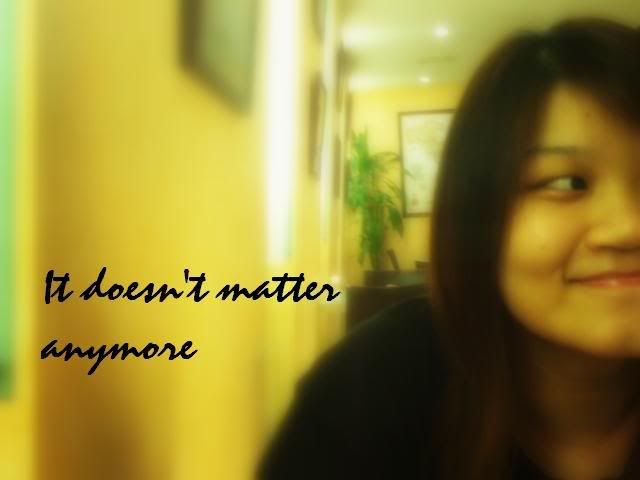 About ME


+25th Jan 1988.
+20 years old
+PSBAcademy.
+mhss.
+family.
+music.
+travel


Saturday, September 27, 2008
So,i've finished watching Season 1 of Gossip Girl and 4 episodes from Season 2.It's so funny because we watched shows like Mean Girls,Gossip Girl - whatever.You know,those that involved high school dramas and usually those girls in the show are being described as popular girls.You can try using Asian girls,especially living in Singapore.We'll address them in this way,

Ah lian.


You might also wanna add a 'chao' infront to make the ah lian more prominent.

Where got such nice words like,'Queen Bee'?

Anyway,tomorrow's my last day at the centre and i actually have mixed feelings about it.

Got my ass down to the supermarket in the afternoon to get some sweets/chocos/biscuits for the kids.Advance Children's Day present.:)

My colleague from my new job called and told me our boss wants me to start on Tuesday instead so that they can pass me the keys and stuff so yup,i'm starting work on Tuesday instead.Mixed feelings about it too.

I think i think too much.You think so?Yah,i think so.

Sigh..i love my life.

I'm really thankful that i'm able to do what i want(don't have to remind me of the many jobs i've worked,quit,worked,quit).First it was the art shop,then the childcare.Both are my interests and the longest jobs i've ever worked for and it really helped that the people i worked with are nice!Art shop,especially.I'm really thankful for that!!:))
Now that i'm moving on to my another interest,which is music,and i hoped and can only hope that it's the right path and i will enjoy what i'm doing.:)
I've always like this phrase,
'You are not working when you enjoy what you're doing.'
:)So let's hope it stays this way.
I'm gonna head to bed now,at 9pm sharp.NIGHT!!!!!!!!!!!;)