Cindy.Chen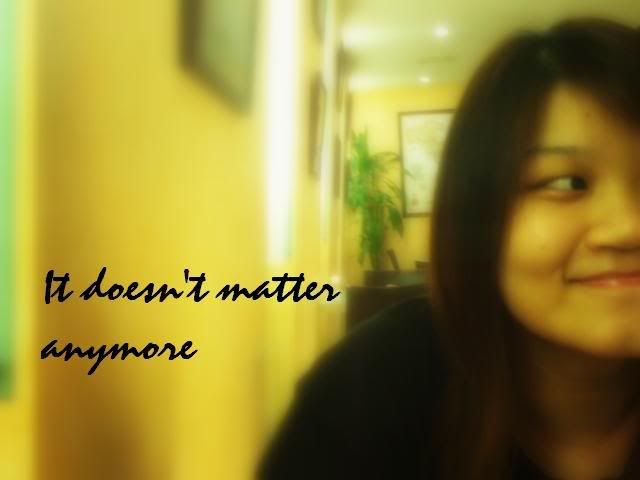 About ME


+25th Jan 1988.
+20 years old
+PSBAcademy.
+mhss.
+family.
+music.
+travel


Monday, October 06, 2008
While others dread Mondays,

I LOVE MONDAYS!!!

FINALLY MY TURN TO REST,MUAHAHAHAH!!:D:D

Woke up at 11am and got myself ready by 12 and headed out for lunch with my dad and younger sis.I've been starving since yesterday!!I was comtemplating to order macs or drive out to ECP for the drive thru but i'm really very sick of fastfood already.So,i slept,hungrily.By the way,guess what?!MY PARALLEL PARKING IMPROVED!!!!!!!!!!!!!!!!!!OMG,i was so happy i was practically beaming to myself in the car.You don't know how scared i am when it comes to parallel parking ok!When my dad asked me to take over the wheels earlier on,i was damn worried because i know that stretch of road are all parallel parking.But WOOOHOOOOO!!DAMN PROUD OF MYSELF MAN!!!!:D:D

Work has been okay,nothing much to do since most of them are either having exams/holidays..the school's been rather VERY quiet.I hope this week will be better though!Frankly speaking,i prefer working at places with crowds.Time passes really quickly without you knowing.

Like for the enrichment centre,there's hardly time for you to sit down and relax.Well actually,there is.But i'd always go into the room and play with the kids instead.

The art shop too.Weekends are crazy packed!Cashier will be buzzing nonstop and the next thing you know,it's time to close the shop.

So hopefully this week will be better!:)

Yesterday while i was talking to Celine on MSN,she showed me her DP(display pic)and went like,

Celine:Nice or not the pic?
Me:OMG!!I ALSO HAVE!!!
Celine:ar?

LOL!So she probably thinks i'm very suaku and expected me to say something like,

*in her dreams*
Me:OMG!!!SO COOOL!!WHERE YOU DO IT?TELL ME LEH!!!

Too baddddddddd!!But i was pretty shocked she was so up to date though.HAHAHAHAAH!!Kidding!

This is so fun!!!You can try them too,at
www.photofunia.com
!

Aww,i love you too,Beckham!!:D:D


I LOVE THIS!Somehow looks like real painting..hahaa!


LOL!So sweet ah the guy..


Spot me.Chey..not fun one.


PARIS HILTON IS THE BEST!!!!!!!!!!!LOLOLOL!!!!


I see you looking at me looking at you,botak guy!


OIE!!BE SERIOUS!!


BYE EVERYONE!!