Cindy.Chen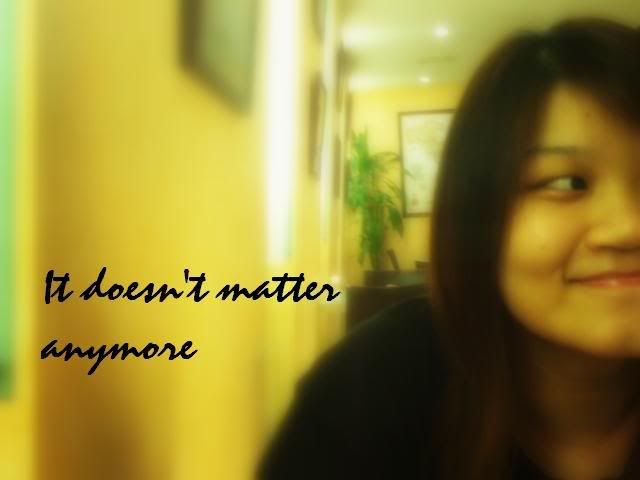 About ME


+25th Jan 1988.
+20 years old
+PSBAcademy.
+mhss.
+family.
+music.
+travel


Tuesday, October 21, 2008
Working,again.
Falling sick,again.

Working life sucks.Not working also sucks.How like that?This job is pretty darn boring 'cept that maybe i get to see countable cute guys during weekends.Okay,not cute as in my type of cute but,do i have choice?!It's mostly teenagers or small kiddos here,damn sad.

And then i came to a conclusion while chatting with Elena on MSN just now.

Cocky parents produces ugly children.Mean but true.Maybe not true but that's what i realised.They usually have kids wearing specs,with that typical guai kia look and are usually in top notch school.Like,so what?Nerd.

I've never been envious of people studying in top notch schools though.Yes,very attractive on the CVs but social interaction?ZERO.

They either mix with people their 'kind' or get left behind.Hello??Social skills,anyone??Stop living in your own world,cocky people.

'neways,had dinner at Chomp Chomp with Christy on Sunday and bumped into Jeffrey Wijaya and his gf,fellow exmhssian,STUDYING at mcdonalds.

LOL!Jeffrey Wijaya studying leh.Damn act.HAHAHAA!Ok,kidding.

So while i was eating my tau huey,i received a sms from the Lady Boss.

L.B:halo..haiya,you add me on facebook lah.lazy to find you and its easier also,my name's the only one on the list.haha!

I almost choked on my tau huey ok!How can anyone be so random?!So,

Me:ok sure,i'll add you.
Me:oh btw,you're damn random.i almost choked on my food when i saw that msg.
L.B:ooh,sorry lah.now free already what,can finally relax.

Yah.Quite cool ah?So now if im not happy with my work,i'll just post a shoutout.LOL!!!

After which,went to meet Wiki for awhile..hope everything goes well after that lil drama.

My complexion sucks.Hate it,hate it!!