Cindy.Chen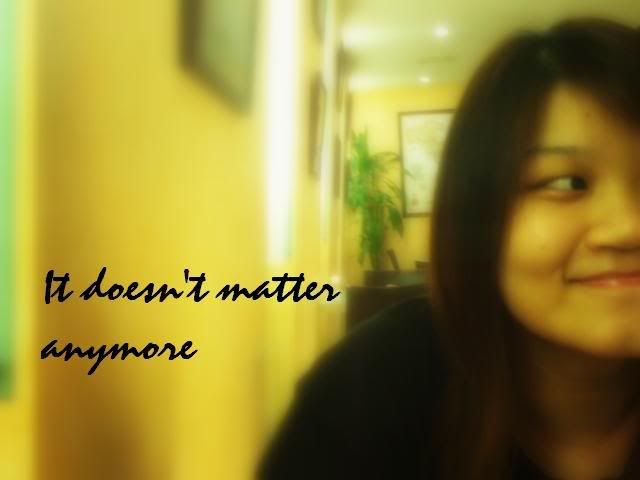 About ME


+25th Jan 1988.
+20 years old
+PSBAcademy.
+mhss.
+family.
+music.
+travel


Tuesday, November 18, 2008
People around me are really spoilt thesedays.In fact,VERY spoilt.

I didn't have these kinda problems before i got my licence.UNNECESSARY PROBLEMS,i call it.

It's like,i know it's very nice to be driven around and damn convenient to go about but they don't seem to get it that i'm NOT OBLIGED to drive them around.I'm not a chaffeur for goodness'sake!It's different if i'm the one offering it.Just like when i first got my licence,you know that 'omg,i can finally drive!' and wanting to haolian period.

But now,it really irks me because it seemed like thesedays,people only goes out with you IF you drive.

I don't care if you think that i'm very petty and maybe,just maybe,at the back of your mind you're thinking, 'then what's the use of getting a licence?!'

Hello?For myself,duh?I didn't get a licence to become a chaffeur.

Case 1:
It's funny because the first thing one of my friend,not gonna name who,always ask ever since i got my licence,

'are you driving?'

Then suddenly,you realise the answer 'NO' it's like a taboo to them.

'HUH erm,ok..then how?'

Bloody hell!What you mean then how!?TAKE PUBLIC TRANSPORT LAH!Then how..!Give me the 'sian' voice somemore!You know that kind of feeling not?It's like as if slapping that person a million times and saying I'M NOT A CHAFFEUR will still not make any sense to that person.

Case 2:
So lately,i've been hanging out with my niece for sports and..well,just go out and stuff and initially,she wasn't as spoilt as now.

The first few times i went out with her,i felt rather bad since she lived very far away and yet,she had to come down all the way to meet me.So,the first few times,i initiated to send her home..all the way to Jurong.Her mom(my cousin),came to know about it and INITIALLY she kinda felt bad too.

Subsequently,my cousin expects me to send her daughter back home since i was the one who asked her out.So fine,i thought it was fair since usually we will go out till late.

So just now i called my niece and asked if she wanna follow me to somewhere to get some stuff and she was like,

'got car or not?'

Yes,it's probably MY fault that they are so spoilt now.I shall not be so stupid anymore.

Thanks,bye!