Cindy.Chen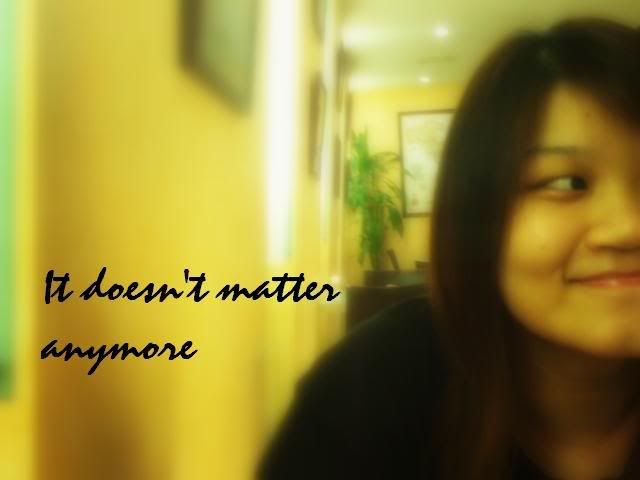 About ME


+25th Jan 1988.
+20 years old
+PSBAcademy.
+mhss.
+family.
+music.
+travel


Tuesday, November 25, 2008
So,Econs paper is over and i don't wanna talk about it.Next will be Accounts and i won't be talking about it too.

Killer modules,really.

I drove down to school and after my exam,popped by at the art shop and just nice everyone was working!So i was standing next to the counter and of all people,the customers started approaching me and the rest of them started laughing.Why huh!?When i was working there,nobody ever approaches me!

Anyway,i really miss working there!!It's always nice to see familiar things and faces around.

After which,went over to Raffles Place to pick Celine up;back to home to pick dad and xt up;went dinner and off to my grandma's house.JON PAUL IN THE HOUSE,literally!

:):)

He is so damn adorable i swear!!LIKE DAMN DAMN DAMN ADORABLE!!!The only thing is that,he's a hair grabber.I dropped a few strands of hair thanks to him.

So we have the face smacker(niece) and the hair grabber(nephew).Very good!

Alright,i shall let the pics do the talking then.


Hi handsome!


Jon Paul and Celine


peek-a-boo!


Father and son


HAHAHAHAHHA DAMN CUTEEEEEEE!!!SEE THOSE HUGE EYES!?!COVERS LIKE, 3/4 of his face!!!


MY TURN!!YOYO JON PAUL!!


AIYO!!!!SO ADORABLEEEEEEEE!!:D:DMY NEPHEW!!


I friggin like the right pic from the top.DAMN CUTE LAH!!AHAHAHAHAHA!!Usually people take this kinda candid shot will look damn shit one ok?


Father-Son bonding session.HAHAHAHA