Cindy.Chen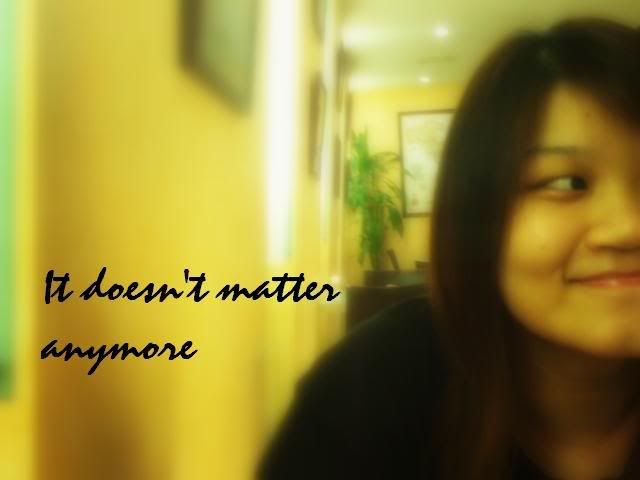 About ME


+25th Jan 1988.
+20 years old
+PSBAcademy.
+mhss.
+family.
+music.
+travel


Sunday, December 21, 2008
Just came home from the movie and OMG,Twilight is SOOOOOOO GOOOOOOOD!!!:D:D I've been wanting to watch it so badly and though i don't really trust reviews and all,i was wrong this time!It's like,really good!So if you're thinking of watching it,please go now.And if you weren't thinking of watching it,what the hell?GO WATCH NOW.

Anyways,after the movie,there was this couple infront of us(Kelvin,Wiki and myself)and..i think that fellow probably got 'motivated' to be the 'romantic' guy in the movie,so he was like literally dancing around with his gf.And when we reached the escalator,he actually lifted her up a little(just like in the movie)and we went,

US:OH MY GOD.........
Kelvin:I wanna puke now.
Me:Me too man.
Wiki:What are they trying to do!?

It's like,if you're handsome and you do this kinda thing..it's annoying but still acceptable.But if you're ugly and you do this kinda thing,obviously trying to be a 'wannabe',is just super annoying!

And it's not like we have any options left.All the other exits were closed,which left us with no choice but to witness the 'grossified' version of Twilight right infront of us.They can just go suck..our blood.

Oh,better not.I don't wanna be like them.No thanks!
I mean,yes,i understand there's always this adrenaline after watching a certain type of movies and trying to be like the characters in the show but wah lao,be realistic lah!

So my dad's out for cruise and i've been using the car for the past 2 days.He top up the cashcard before he left and now,20 bucks is gone!It's just 2 days and 20 bucks is gone,from the cashcard alone.I don't think i'm ever gonna own my own vehicle man!Great consumption,no good for my pocket!!

Celine will be back tomorrow and will be leaving for Brisbane on Christmas Eve.Initially i wanted to join her but decided not to..errr..because,that's why.:):)

And..i'll be free for the next 2 weeks!!No work,no school!!Yayness!!!

Let the bookings begin..!;)