Cindy.Chen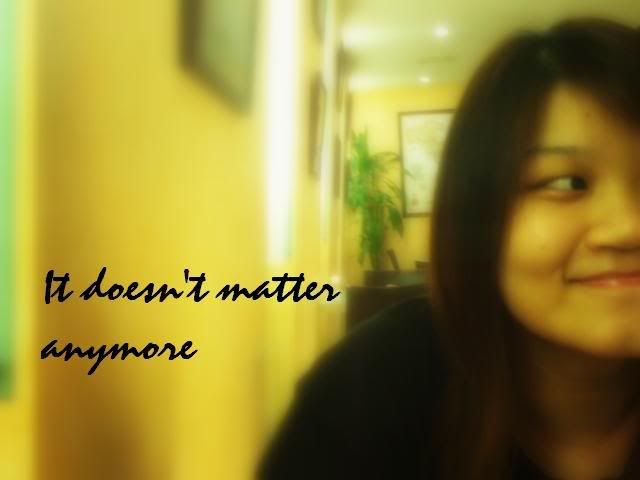 About ME


+25th Jan 1988.
+20 years old
+PSBAcademy.
+mhss.
+family.
+music.
+travel


Friday, December 12, 2008
The other day saw Jumay a.k.a Qiu Lian a.k.a Chinean(pronounced as Chee-na-ian)down to the music school. I thought of having dinner together but in the end,that kuku told me she was meeting her parents for dinner.Pardon me,there's nothing wrong with that ok!It's just that i'm amazed by her come-down-for-nothing trip.

Oh yes,not for nothing.To see me!!:):)Anyway it's been so long since i last saw her and it's great to see her as crappy as before!HAHAHAAHA!The ultimate crappy chinaizer.

So she waited for me till i knocked off at about 6ish and we took a train down to Lavender where she meet her parents while i met up with Wiki.

Nothing much to update lately,no pictures..no nothing.So boleng.I have been going out though!

Last thursday was out with Miss Piggy for Kbox.It was a last min plan and boy am i not tired of repeating it,LAST MINUTE PLAN ROCKS!!!:)

Met up with Christy,Wiki,Kelvin and Wendy on Tuesday.It's been quite long since the few of us hung out so,decided to meet up for dinner and after dinner,drove down to ECP to chill.

Went home at about 2plus and by the time i got home,i was so friggin exhausted,i dragged myself to the bathroom to wash up.Couldn't be bothered to wait for my hair to dry;hit the sack almost immediately once i entered my room and the next thing i know,it was 9am when i was supposed to start work at 9.30!I literally jumped out of the bed when i looked at the clock!

I've always thought the term - Jump out of bed,was over exaggerated.Well guess what?I proved myself wrong.

Anyways,gonna meet up with that Chinean and Yvonne tonight,well,hopefully!

Till then.