Cindy.Chen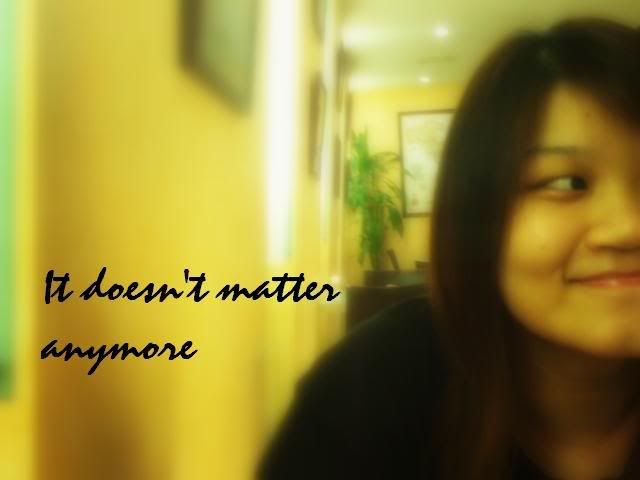 About ME


+25th Jan 1988.
+20 years old
+PSBAcademy.
+mhss.
+family.
+music.
+travel


Sunday, January 25, 2009
So,i've officially turned 21.It doesn't feel like my birthday today actually,probably cus i've already celebrated it 2 days ago.

Still,i'd like to thank those who have wished me:):)

CNY is tomorrow and i'm dreading it.Not the collecting of ang pows part,but the..i don't know.The mood just ain't there which i have no idea why!It's just too fast i guess?

I need to start exercising soon.I have alot of people telling me i've put on alot of weight(than i already am)and,okay,i know because i can feel it too.I've been feeling so tired,restless and lazy.This cannot go on.I need to start living healthily.Which i have been telling myself since,a long long long long long time ago.And please hor,i'm not one of those stupid girls who keep saying 'i'm fat i'm fat' when they jolly well know they are not.Attention seeker i call it.I bet they love it when people say things like,

'OMG,are you crazy?!Nooo!You're not fat!You're so skinny!I wish i had your body'

So please people,don't be so stupid and say things they wanna hear.Fat people don't usually acknowledge they are fat.We don't say things like,

'OMG,i'm so fat.'

Because we already know we are.So we don't need more comments like,

'Yah,good that you know.'

Get it?

Anyway,some pics of the party from my camera.Please wait for it to load..

3 muskerteers!


the housekeeper


Sam!


Shahrul and Joanna

Part of the cake decoration!
with the left over people.hahaaah!
THE PRESENTS!!!:):)
21 snacks!!!almost all are my favourites man!!!:):)
And..THE MOST AMUSING THING!!!!!!!!!!!!!!!!!!!!!!!HHAHAHAAHAHAH!!!!
LET'S LAUGH TOGETHER!!!
HAHAHAHAHAAHAHAH!!!
HAHAAH
HHAAHHAHA
HAHAHAHAHHAAHAAH!
Okay enough.
YES,a pouch for present with receipt in the bag!HAHAHAHAHAHAH!!cool man!i decided not to show the price in case the person reads my blog.Anyway i also don't know who gave me this,so don't worry!HAHAHAHAAH!!