Cindy.Chen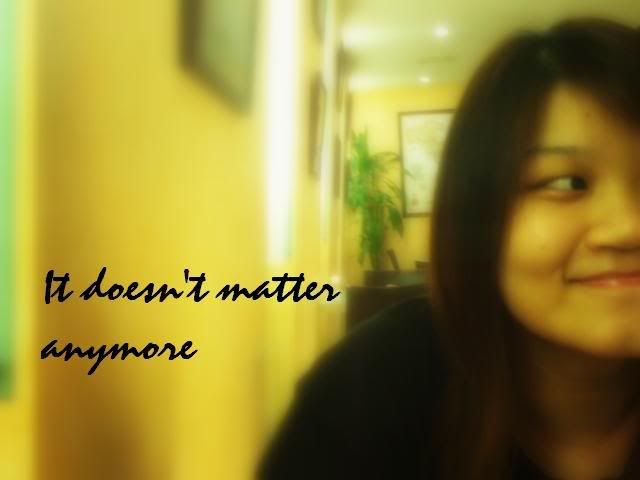 About ME


+25th Jan 1988.
+20 years old
+PSBAcademy.
+mhss.
+family.
+music.
+travel


Tuesday, February 03, 2009
My legs are friggin numb now!I don't even feel like i'm walking when i walk.Okay,sounds dumb but..i don't know how to describe.It's not even aching,it's more like..numb.Ahh,forget it.

So met up with the 2 bitches at Weejun and Roy's shop.Yes,they are their own bosses now!And this is their website.


http://www.big-eater.com/


To all Monkshillian reading this blog,you should go down and show some support man.If you either know Roy or Weejun,all the more you should support!It's located at Blk 3 Queen's road,somewhere around Bukit Timah.

It's nice to see your friends working towards their goals and i think it's only right that we show support.I mean,how many of us can actually do what we want to do?It's always easier said than done,so i think it's really admirable for those who are determined to achieve their goals.

Yes,i'm just about to stop preaching.

Now i'm gonna complain.

School is starting tomorrow,again.And i'm already feeling friggin lazy!I'm feeling so lazy to even get up and walk over to my bed.

Alright,the sleepy bug just kicked in.Night!


While webcaming with Sam a moment ago:
Can see my 'hung tio' face?!!?
It says: Small Breasted Women are generally Big Hearted.
Sure Sam.
Wake up and smell the coffee please.
K,THANKS BYE!

I know Kaijia's gonna comment soon.SO FYI,i wasn't trying to act cute okay!My fringe was irritating the hell outta me and i don't own any clips so yes,that explains why.

K,THANKS BYE!