Cindy.Chen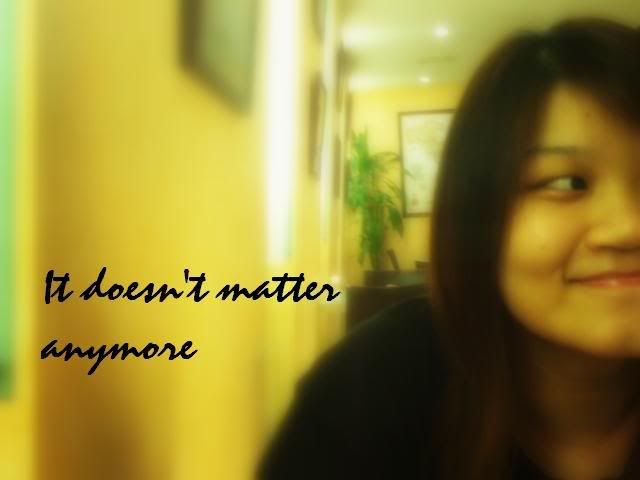 About ME


+25th Jan 1988.
+20 years old
+PSBAcademy.
+mhss.
+family.
+music.
+travel


Wednesday, February 25, 2009
Sometimes i find it really hard to find a balance in life.

I've been feeling really stressed up lately and i'm the kind of person who will rather keep things to herself than opening up to people telling them how i'm feeling and stuff.And i mean,look,they can only do
this
much.

You can go on and on about how your day/life sucks and the most positive answer you'll ever get will probably be,

'Cheer up!'

Life hasn't been a bed of roses for me recently.

Ever since i know i have to sit for 4 papers in April,my mood has been really bad.Not that i'm blaming anyone since there's really no one for me to blame except for,oh yes - Myself.

It's really not easy juggling between work,school,family,friends and housechores.

Every day,i wake up early to go to work.

It will be good if i'm working at a place where i can learn new stuff and keep myself occupied but it just pissed me off when my job is so relax and really,i feel like i'm wasting my time away.Imagine the time i'm 'working',i could be catching up on my sleep,cleaning up my room,going out with my friends,revising my work - okay,i can actually do that now but anyway,that's not the point.

Then on days like Wednesday and Friday,it's a friggin long day for me especially when i have test,which leaves me with no choice but to attend class.Never mind the fact that the train is always jam-packed.It's the lecturer that keeps going on and on and on and on and my eyes will be glued to the clock waiting for break time to come.

And then i will be cursing myself every time i come home and see the mess in my room and sleep with a frown on my face.

And every day,the same thing repeats itself.

Then there's days when i get to hang out with my friends and since i can only hang out with them after my work,i'll always have to count how many hours are left for me to sleep at the back of my mind.Isn't my life sad?Sometimes i'm really thankful i'm not in a relationship because i think it will probably add on to my misery.

And ever since i'm stuck with this routine,i've not been visiting my grandma/driving her and my mom for random rides and I hardly even see my dad!And i've only webcam-ed with Celine countable times because everytime when i'm online,she's asleep and when she's online,i'll either be going to sleep or well,not online.And there's the younger sis who gives nothing but trouble.Like seriously,she's not a small kid anymore,why can't she just grow up and start using her brain and think?Not as if i don't have enough problems myself,i have to cope with hers as well.

I wish i could be like those people who can just breakdown and cry and be that fragile of a person they are.

It's not easy pleasing everyone when i can only handle this much.It's really hard.I always thought as we grow older,we should be mature enough to handle situations better but i guess i was wrong.In fact,it would only make matter worse and more awkward than it already is.

I'm really hating this..