Cindy.Chen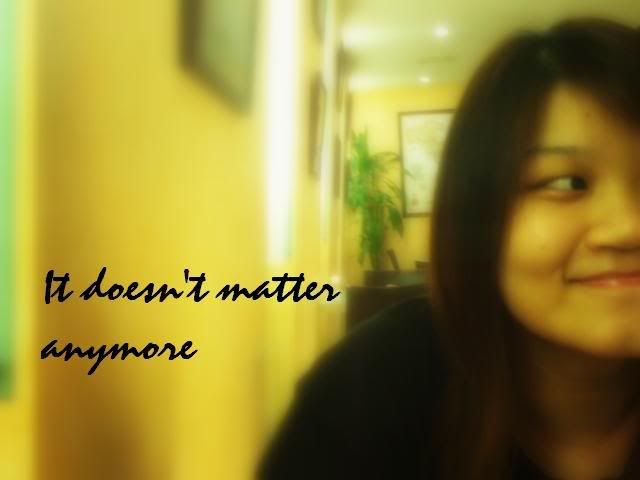 About ME


+25th Jan 1988.
+20 years old
+PSBAcademy.
+mhss.
+family.
+music.
+travel


Monday, March 23, 2009
I feel so hardworking today.Did my laundry,changed my bedsheet and packed my table.Life still kinda suck without a maid.

So i took leave on Saturday and met my cousin cus i seriously need someone to help me in my accounts.And erm,yah..not much of a help but it's ok lah!Really appreciate it!:):)She came all the way down from Jurong leh..so i'm feeling guilty too!She say i always 'bully' her,made her come down all the way from Jurong.HAHAHAHAAH!True ah..

And then yesterday was back at work.

Gosh!It was so quiet because there wasn't any lessons going on!And the 'best' thing was - the internet was down!!Can you imagine me being stucked there from 10am-7pm with NO ONE,NO INTERNET - NOTHING.Okay,maybe my Accounts notes.Luckily Sam ended work at 3pm and since she was just 1 MRT stop away from me,she decided to accompany me till i knocked off.Cool shitzo!So we went to get FOOD.1 pint of Ben&Jerry,Ice-cream milkshake and Mcdonalds.Seriously,that's the only thing we can do.

So after work,i accompanied her down to Haji Lane to collect her dress and we walked over to the steamboat place to meet Kelvin,Kelvin's friend and Wiki for steamboat.Reached home about 10ish.

This week is gonna be a long week for me because Nata is going back to Indo.Which means?I have to cover her shifts too.Damn..working is really a waste of time.When you work,you can't study.I've tried bringing my books there to study but whenever i wanna get down to it,there'll be endless calls and things for me to do.It's a cursed or something!Damn idiot one leh.Then everytime when i don't wanna study,the whole place will be so quiet..like yesterday!

Ok,i'm gonna go now.Bye!