Cindy.Chen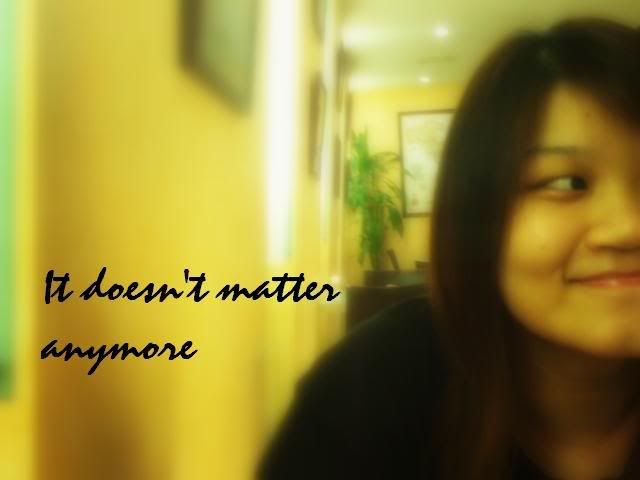 About ME


+25th Jan 1988.
+20 years old
+PSBAcademy.
+mhss.
+family.
+music.
+travel


Sunday, April 05, 2009
I think i can only talk to Karen Tan for hours on the phone man!There were 2 days when we talked all the way till like 4 in the morning when i had to wake up at 8am for work.We can really talk about anything..from exams to steamboat to hokkien lesson to cockroaches to pregnant cockroaches to lizards.

So we were talking about which is more disgusting?Cockroach or Lizard.After arguing for like almost 1/2 hour,we came to a conclusion that actually,both are equally gross.And the next thing i know,we were scaring each other.

Me:The cockroaches are waiting for you in the room lor.
Karen:No lor,i off the lights already.
Me:Even better!You can't see them!They are everywhere,at every corner of your room.
Karen:You shut up lor.Scarli later when you look at your ceiling,the lizard is looking at you and drop it's tail.

Bloody shit.


Anyway,i really can't wait for our exams to be over!Then wa lang ai seh ki jia steamboat, worryless.:D:D

Oh yes,i've took off from the 7th-15th of april!Really gonna piah my studies and hopefully,pass them all!Really can't afford to fail another subject,it can really drive me nuts!Next wednesday will be the class gathering.Luckily it's after my maketing exam!Thursday will be sending my lady boss off and the rest of the days will be studying for my next 2 papers and waiting for Celine and Jojo's arrival!And 16th will be JON PAUL'S BIRTHDAY!!!He's turning one!OMG,ONE.

Celine:So how old is Jon Paul gonna be?
Me:One.
Celine:What?!ONE?!But he's been around for so long!!

Which i thought was pretty funny.LOL!!Errr,okay..bimbo jokes lah.