Cindy.Chen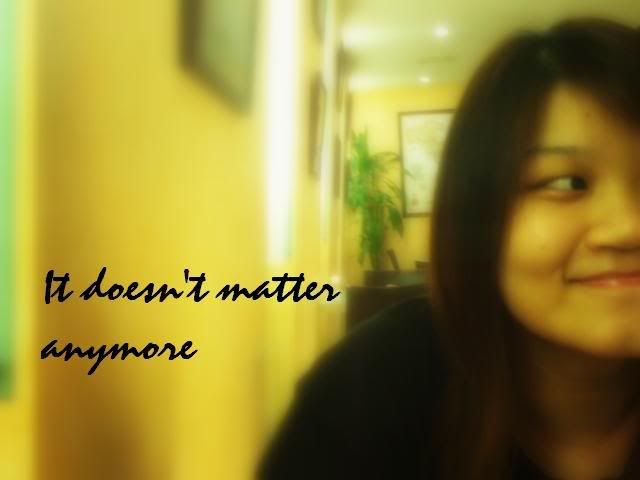 About ME


+25th Jan 1988.
+20 years old
+PSBAcademy.
+mhss.
+family.
+music.
+travel


Thursday, April 09, 2009
I'm back at work today.Supposed to be 'on leave' still,but Nata can't come in the morning so have to cover for her.

Anyway,so we had our annual gathering last night and i'd say it turned out to be
quite
a flop.The number of people who turned up was so much lesser than expected.I did enjoyed myself but i'm not sure about the rest.The place Esther brought us was good.The band was good and well,overall it was okay.Was surprised to see Abishek after like what,2-3 years?!And guess what?He got sent out by the bouncer just cus he had a few sips of the champagne which was for the ladies!Biggest joke of the night.We ordered like so many drinks and he got kicked out cus of that few sips?Seriously.

We left about 11ish and the remaining sober people(Derrick,Andy,Kim,PK,Faizal,Jeff & GF and myself) headed out for tauhuey.I didn't know they haven't had their dinner and they ate like hungry ghost when the youtiao was served.It's like one moment it's there and the next,it's gone!

So before that i ordered my tauhuey,

Me:Wo yao leng de dou hua(I want cold beancurd)
The person who served us: HAH.(Think.The snobbish kind of HUH.)

And then Andy and myself burst out laughing.

Andy:Eh Cindy,she sounded like it's a matter of fact kinda thing.HAH!

LIKE SERIOUSLY MAN!?HAH?!I was left speechless for a moment.

But okay lah,since the tauhuey is really quite good,i shall forgive her for hah-ing me.And then that Derrick is becoming more violent each day!Keep hitting me leh,wah lao!
So after which,we all headed home.Shared a cab with Kim and PK and damn that taxi uncle!He drove like ong friggin big round man!Like really big round okay!!It's like for example,from Paragon to Taka.Instead of U-Turning at the junction or something,he goes all the way to CTE and down to Orchard.You know what i mean?Okay never mind.It's just friggin big round.

I'm gonna go to the airport later to send lady boss off.Work is sooooooooooooooo boring!