Cindy.Chen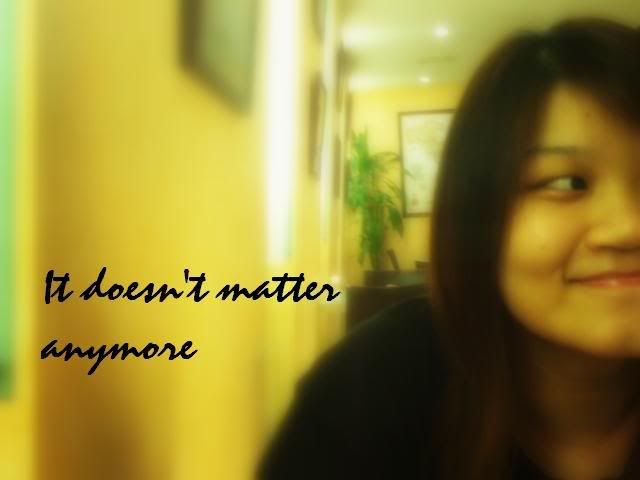 About ME


+25th Jan 1988.
+20 years old
+PSBAcademy.
+mhss.
+family.
+music.
+travel


Friday, April 24, 2009
Such a lazy friday afternoon!
I felt like doing some cleaning spree today and so,i did.Swept and mopped the floor,clean the fridge and kitchen and toilet and change my bedsheet and after all that,i just simply lazed around.Feel so gooooood although i'm like doing nothing.Just sitting on my sofa watching MTV.
SOMETIMES i do feel that having no maid is a good thing.You can just do your own thing and not worry if the maid is skiving or not.LoL!And the best thing is,you get to train yourself to do housechores.And i really mean TRAIN.For one,i've never really like washing dishes.I don't like my hands to feel wrinkled.Okay,that sounds damn bimbo and spoilt but you know,i just don't like lah.I know nobody likes but okay,never mind,shut up.But that's just SOMETIMES on days like today,when i feel hardworking enough to clean up the place.And it's also good lah,exercise what!
Anyway.the weather is so friggin hot!It'd be perfect if my living room has aircon but well,ceiling fan is just fine.

I really like the feeling of nua-ing at home.Sounds damn no life but i really like it!Like you can just leave the tv/radio on,listen to some music and just..nua~That's like the shiokest thing ever!I mean not everyday lah!Once in a blue moon then you can feel the shiokness.

I need some rain man!But definitely not like the other day's 'thunderstorm'.That's scary!

Okay,i think i'm starting to type crap..how ah?If i don't blog,i don't know what to do.I just feel like typing.Or not.Maybe i should just catch an afternoon nap!