Cindy.Chen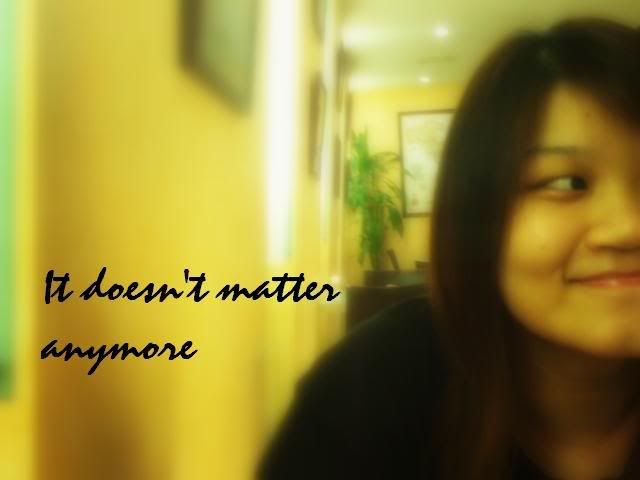 About ME


+25th Jan 1988.
+20 years old
+PSBAcademy.
+mhss.
+family.
+music.
+travel


Tuesday, May 05, 2009
For the past week,i've been going out with Sam.It was to the extent Jeffrey Wijaya went like,

Jeff:Are you guys lesbians?

And Sam didn't help much by putting her FB status as '..i'm in love with a girl'.It's a song by Gavin Degraw by the way.-____-"

We are too straight to be gay!!I also wanna be gay.I also don't want to everyday think of Edison.You think i want meh!I can't help it what!

So,she came to my place for a sleepover on Sunday since both of us didn't have to work on Monday and initially,we wanted to go cycling and all but we only came back home at about 4 in the morning.

Before that,met up with Jeffrey at United Square and i think it's a place where mhssian hangs out.Bumped into Sam Chua at Starbucks(she's always there btw)and then Andy,who was at Starbucks with his family.Like,damn cool please.Who hangs out with their family at Starbucks?!

Then Christy,Kel and Wiki came and we ate at foodcourt.Didn't know where to go after that,so we went back to Starbucks.After awhile,Andrew came from nowhere and we were there till about 11.30pm.

They wanted to watch Wolverine,so we cabbed down to Kallang Leisure Park only to have the counter closed infront of us.-____-".So yah,quite fated not to watch movie cus i'm not really a movie kinda person you see.LOL!Unless the trailer catches my attention,then the probability of me watching the show would be higher.

Since it was a Sunday night,we didn't really have many places to go.So Sam,Kel and myself went to Mustafa instead.The rest went to play L4D.

I think Mustafa is such a Anything-Can-Happen place.

We saw a mouse scurried to the other side of the luggage section right infront of our very eyes.INSIDE of Mustafa k!And then while we were at the tidbits section,Kel came across this half packet chips that was left on the shelf,er..literally.Wah lao,want to eat then finish it lah..leave there for what?Bai swee?

Anyway,i think i'm really getting old.I can no longer stay up late,have a few hours of rest and feel energetic the next day.I was really struggling to keep my eyes wide open the whole of yesterday.And i really will moodswing.Not kidding!

LOL!

One year ago,i passed my TP.
One year later,which is today,i am gonna take out my P plate!

Time flew past so fast!!SCARY!!!!!!!!!!!!!!!!!!