Cindy.Chen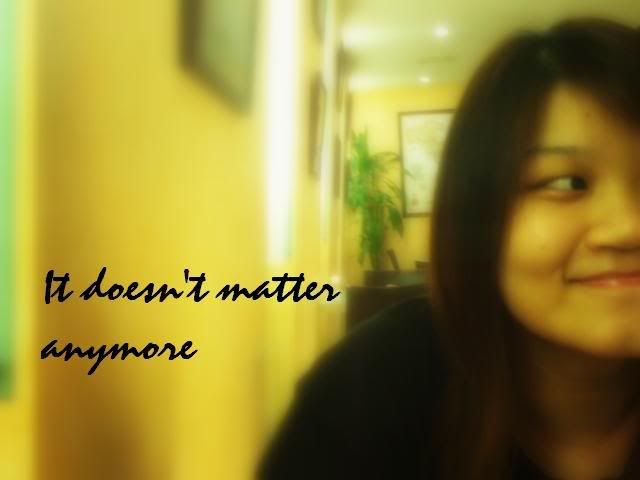 About ME


+25th Jan 1988.
+20 years old
+PSBAcademy.
+mhss.
+family.
+music.
+travel


Friday, May 15, 2009
Hello there!:)Since i'm very free today,i shall update!
We had a surprise mini gathering for Wiki on Tuesday at Mind's Cafe.It was really a very last minute decision because everyone was like,'Anything' or 'No money' and things like that which really doesn't help at all.So i called up a few people and out of the few,only Roy,Kim and Xueling turned up.But well,we did had a great time nonetheless!
After which,Esther and Sam went home.Wiki and Andrew went off and the rest of us went over to Marina Barrage in Roy's car.Friggin dangerous driver man!Anyway,Marina Barrage is damn nice okay!!Oh my god,i really fell in love with that place.It's my first time there and yes,not gonna be the last!:D:D Chilled for awhile and Roy had to pick his brother up so he dropped us at somewhere along Little India and Kiong,Christy and myself took a cab home.

Wednesday was class again and by break time,half the class was gone.HAHAHAAH!And my classmates seemed to be amazed each time i turned up for class.Their next question after the usual,'wah!you're here!' would be 'going home during break isit?.'

LOL!!Hard to act guai.

Anyway,this was what happened yesterday.

As usual,went to work in the afternoon and Natalia stayed till i knocked off and we went to have our dinner at TPY central.Just as we were about to reach the escalator,this auntie initially tried to stop Nata to talk to her but Nata ignored her.I was behind Nata,so i saw what happened and i tried to go to the other corner,hoping the auntie wouldn't see me but alas!The stupid dustbin blocked my way and the auntie quickly stopped me from walking.-____-" Idiot sia!

So the auntie kept talking and talking and we told her we will find her after our dinner and she was like,


(in mandarin)

Chao Auntie(C.A):Very fast one lah,5 mins the most.Come come!If you don't want then don't want lor,its okay.I won't force you to buy or anything.Just come!


No choice,we followed her.Never had the intention to get anything anyway!Just to 'eng siew'.

It's like those typical neighbourhood facial shop managed by auntie with super gross make up.The C.A herself is damn gross.Her make up is really like Ru Hua.No kidding!!

I think Ru Hua better looking than her!

So she kept going on and on about the facial and their products and blahblahblah,and she kept repeating this sentence.


C.A:Really lah,you think our shop will earn alot meh?Usually students we don't entertain one leh.You think we can earn anything from students?

Then why entertain us?Seriously.

So i merely asked her for a name card and the next thing i know,she flared up and literally threw the brochure she was holding and said,


C.A:For what you want the name card?We are just trying to help you to have better skin.Really lah,you think our shop will earn alot meh?Usually students we don't entertain one leh.You think we can earn anything from students?

YES,EXACTLY THE SAME THING.AGAIN AND AGAIN.

I really wanted to LOL.When Nata laughed,that C.A turned to her and said,

C.A:Xiao mei,you don't laugh.I'm serious.

So she started to get really agressive and i know from the moment she threw that brochure she is some fat chao ah lian that can't be trifled.So i went like,


Me:
Erh,i don't want.Thanks.

Then you know what that bloody fugly C.A said to me not!?!?!She really raised the voice leh!


C.A:You don't thank me!I want to help you but you don't want to help yourself,too bad!*rolleyes*

Of course i rolled my eyes back at her before i left.

Dumbfounded please!!

Wah lao!Seriously,my heart was pounding damn fast that i don't know is it because i was damn pissed or that i was scared she will go crazy and come running after us with a chopper or something.

No wonder no business!I think even aunties also won't go in lor.My goodness!

Okay,i'm gonna do my stuff now!Ciao!