Cindy.Chen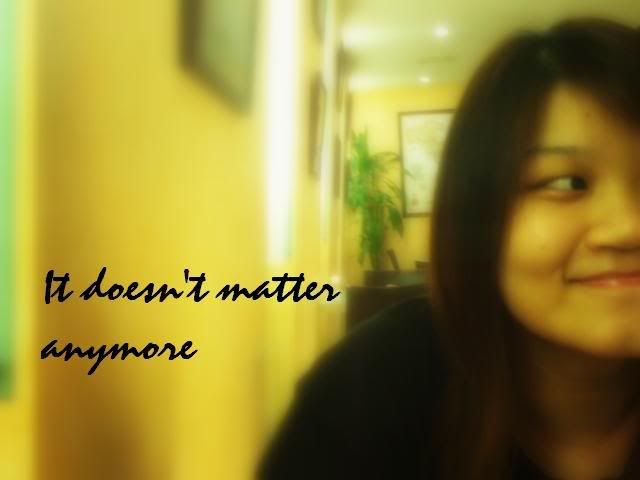 About ME


+25th Jan 1988.
+20 years old
+PSBAcademy.
+mhss.
+family.
+music.
+travel


Monday, July 13, 2009
I don't know why but i'm so friggin addicted to Akon's Be with you.I've been putting it on repeat since yesterday.The song is stuck in my head!!!!
Anyway,my dad bought a laptop for himself and yesterday night,i was trying to help him configure everything.Can't believe it,i'm quite a computer noob myself and i have no idea how i did it.So he added Celine on MSN and Celine was like,
'wah!!so high tech ah u!'
HAHAAHA!And my dad asked me to add him on my msn list,wah..i need to think about it man!Abit sian if he knows what i'm up to.LOL!!!!!!!!!!!!!!
Summary of what happened the past week:
Wednesday:
Went ECP to exercise with Sam,Roy and THE D after god knows how many years,feels friggin shiok to sweat!They skate while i cycled and Roy bought Sam a pair of new skates which costs a whooping $***!!Bloody generous.

Roy sent us home.

Had class in the evening and Sam crashed class with me.

Roy picked us up after my class and we went for car rides!:D:D Awesomeness!

Went Mount Faber and then to OCH!WOOOO!!It was so eerie please.

Picked Roy's friends up at Goodwood and went for supper at Swee Choon.

Had interesting stories..ghost stories,duh?

Roy sent us home again.
Next day was meet up with Karen.
Newton with Christy and gang at night.PK was gonna enlist the next day,so had a mini gathering.
I LOL at Christy when i bumped into Wiki and her while walking to Novena MRT.I friggin LOLed damn loud and couldn't stop myself from laughing again when i met them later in the night.

Meet up with Karen the bitch is always nice.We always have endless topics and NEW JUICY gossips to update each other.I LIKE!!:D:D

After Newton,the rest wanted to go..i don't know where and i decided not to join them,as usual.Roy needed to go home too so he forced me into his dad's car.LOL!Okay,sounds wrong.We waited for his dad to pick him up and he asked his dad to send me home.Damn paiseh but..yah.Not acting shy!
Work was as usual,borrrrrrrrring.
Today:
New part time maid came and WOOOO!My dad paid for it.Yah,cus usually when he moodswings,i'll be the one paying for it.So yay to that!

Very good,i like her.Clean very good.HAHAHAHAHA!
Basically,that's it.
Gonna eat my breakfast now.Ciao!