Cindy.Chen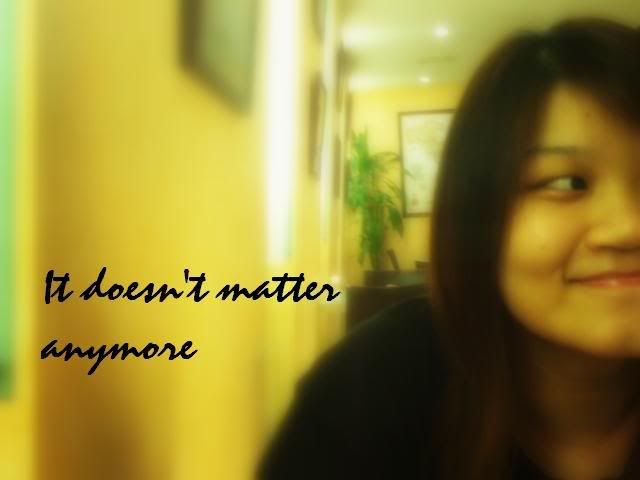 About ME


+25th Jan 1988.
+20 years old
+PSBAcademy.
+mhss.
+family.
+music.
+travel


Saturday, March 06, 2010
Damn!My intention was to sleep at 7pm today since i kinda wasted my whole day away and also,i thought it was time to finally let my eyes have a good rest since those dark eye rings are getting really terrible!

Feels quite weird but real good not working on weekends!Just simply sitting on the sofa on a lazy afternoon,switching on what almost seemed like an alien to me - Television and watching every available channel!Me like!!:D:D

Ahhh,short-lived happiness i'd say.

Exams coming soon!!!!Means?Mugging soon!!But when i think back about the last 3 papers i conquered(which reduced me to tears but thank god i passed!So the tears are worth it!),i feel i have to pass this last 2 papers no matter what!

I've been thinking a lot lately.Maybe that explains why i can't have a proper sleep!Hmm,nothing in particular..just general stuff like my future etc.Sucks to grow up!

I've always wanted to go on a holiday on my own but i'm not sure if it'll be anytime soon.Feel like isolating myself for once..no,not anything emo-ish but i feel like slowing down the pace alil bit and instead of getting caught up by things around me,i should catch up with myself first.In the middle of losing myself,maybe,i don't know.

It's great to be blogging again though..just like how i used to blog about random things and when i read back on my past entries,i amused myself sometimes.HAHAHAA!Geez,so corny.WHATEVER LAH!

So just a few updates in case my memory fails me.
Month of Feb:
- Bad move on sending my laptop for repair.Instead of a cheaper alternative,i had to pay even more!Damn angry.
- Had a minor accident,which i blogged about in the earlier entry.Money gone too!
The only good thing that happened in Feb was going to the BACKSTREET BOYS CONCERT!!!!!It was on the 28 Feb,so yah,kinda wraps up my Feb in a good note,almost.They were so awesome!!!Definitely worth my every penny!!It was my first concert too..never been to any before so yup,thanks BSB for making my first a good one.HAHAHAAH!!:D:D

March is such a broke month.I have no idea why!Probably cus of all the money i spent in Feb..argh!I hope April will be good though.I know,i know..it's only starting of March and i'm already complaning.Can't help it alright?Wait till you're left with $0.48 in the bank then you'll know how i feel.

Caught Dear John the other day with Sam,Kiong,Kim and Majidah.Such a disappointment man the show!Didn't even shed a tear.Was expecting it to be a tear-jerking kinda show but nah.Now i'm waiting for The Last Song!Hopefully it will be a good one.

Okay,gonna try to knock myself out again.Toodles!