Cindy.Chen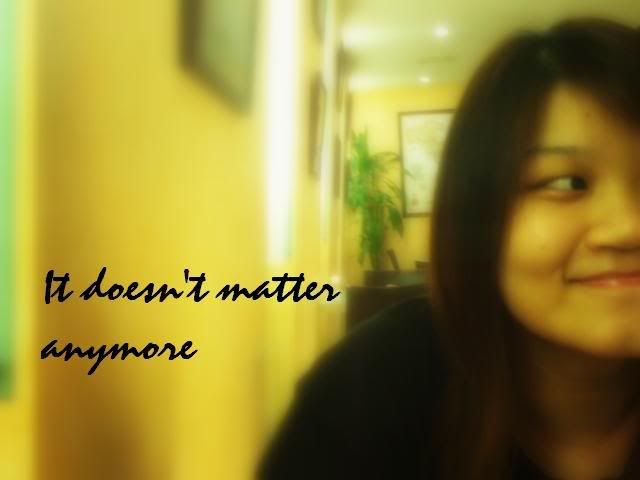 About ME


+25th Jan 1988.
+20 years old
+PSBAcademy.
+mhss.
+family.
+music.
+travel






Tuesday, June 19, 2012

You know there are two kinds of people in this world.






One is always blaming others but never themselves and another, always blaming themselves and not others.




It's quite sad that the latter is almost non-existence anymore because people thesedays are always blaming every other damn things other than looking at themselves in the mirror and ask themselves are they really that perfect.




Yes it's true.It's like,they are always 'victimising' themselves and think that every other human beings are the ones that let them down or neglected them and refuse to admit that they are the ones who have a problem. Seriously,you have a problem, FIX IT.Don't go whining like some 3-year-old and quit thinking everyone owes you a living or is forever indebted to you.PUI TO YOU!






I've always thought that high school drama is so yesteryears.Guess i'm wrong.Just like the song,high school never ends.






Yes i get that some people are more sensitive than the rest but over-sensitive?Come on.What's wrong with asking 'why the sudden dinner?'.Am i wrong to ask that?Can't i ask that?And best thing was, the other party conveniently assumed i was still angry and immediately left the group chat with another simply replying 'i dunno man' and left too.RETARDED,really retarded. So it's wrong to reply a tad slower just cus' i'm driving and it's wrong to even ask what's the occasion for a dinner.






What should i say?






Well,from now onwards,i'm gonna prioritize my time to those who deserves it and treasure my relationship with them.Pests who only come to me when they need me or those who never keep to their promises can simply F*** off.Really,my life is simpler and much happier without them anyway.



If you think i'm talking about you,you're probably right.