Cindy.Chen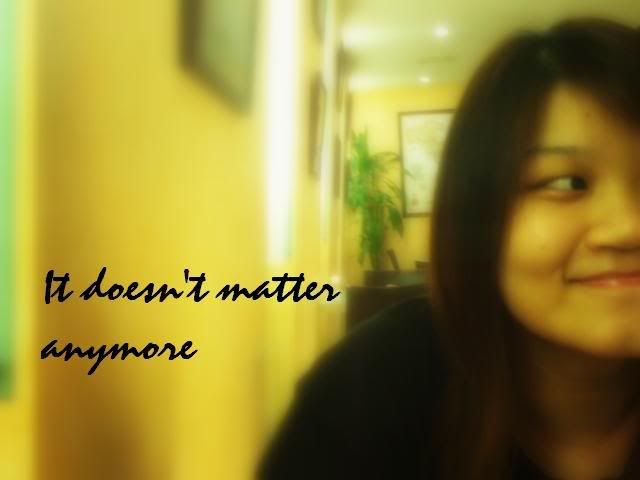 About ME


+25th Jan 1988.
+20 years old
+PSBAcademy.
+mhss.
+family.
+music.
+travel






Wednesday, March 30, 2005

gosh..i feel so lazy to blog these daes!
todae's news reported dat theres an earthquake in sumatra! yesh,i felt da tremor..and it was real freaky! it was jus past midnight for god's sake..like 12.14am? suddenly felt my bed was moving..and i tot my room was haunted! LOL! i tot dat theres something underneath my bed(u knoe..typical horror films!) so,i quickly jumped off my bed and switched on da lights and check wads under my bed..bt there was nuthin.(dun ask mi y i have da GUTS to actually LOOK UNDER MY BED IN THE MIDDLE OF DA NIGHT!)i jus had da sudden urge u see? LOL! my mind's was filled up with those ghostly figures..yea,dats how nonsensecial i can get! hehee! yea,den i jus leave da lights on =p was too scared lah uh! bt oh wells,let us all jus pray..pray for da betta?

okai,back to something more cheery? todae had C.I.P..helping out da old folks.we didnt realli do much though,jus cleaned da windows and mopped da floor..da thing supposingly to be end at 5? bt we finished everything by 4..lol,and dat blur ms soo tot it was 5 alreadi so she asked us to wait for da bus..-_-" dats how blur she can get! hahaa! den mi and esther went home from there cus its sorta more convenient? and da rest of da class went back to school..lol!
im so tired these daes,seems dat no amount of sleep is sufficient to mi! *soBz* shucks,tmr having pe again..rugby again?gosh..and da NAFA challenge is coming soon =.=
alrite,i shall update again..when i have MORE things to update?it does make sense,rite?hahaa! laters!



cindy

[ 11:59 AM ]

Monday, March 28, 2005
hey hey! lol,i felt so retarded yesterday! i kept taking pics of myself(in a retarded way),bt although being da 'dont-like-to-take-photos' sort,i find it really nice! HAHAAA!becus i found something dats realli interesting in my camera =D its like..u can take ur pic in a half-half way..which means,u can smile on half of it and frown on da other..lol!and i kept taking realli retarded ones! heheee!like im seeing doubles =)) i wonder how it feels like having a twin,hahaa!
and i jus couldnt stop laughing! so i showed da pics to ruiza and she started laughing too..i felt like im suffering from some major depression!bt im not lah uh! im jus stress..S.T.R.E.S.S! hehee..and oh!im so addicted to da song sang by aaron carter,Do You Remember.yea,its kinda old..bt i liked it =D and i watched da music video,god!he looked ohsofine,my goodness! hahaa!
argh,im still stuck with my coursework!and gotta pass it up by tmr! i knoe if i dun,ms soo's gonna scream off her head! ah,okai..im off!
cindy
[ 10:18 AM ]

Saturday, March 26, 2005
Good friday people!! feel so contented,being able to sleep for nearing 14 hrs! whoopie! =D hehee!its been so long since i could jus sleep my head off! nono,its not dat im suffering from insomnia or whatsoever! lol! yup,feel so energetic!
forgot to update abt yesterday..bt it was furnie lah uh,cus practically everyone changed their shoes..most wore slippers,hahaa! those who didnt changed their shoes are most likely,or should i correct dat, are THE ones dat didnt turned up for da cross country!LOL!hmm,den was supposed to watch movie bt i was jus dead tired! i so wanna watch miss congeniality 2!=.=
so wads my plan todae? hehee,im nt sure either..perhaps i'll still be doing my research! im half-way through :) bt i suddenly got da urge to cycle! lol! im so plain bored! alrite,jus update later..gonna find somethings to do!
cindy
[ 7:21 AM ]

Friday, March 25, 2005
hellloooo!! yesterday was a hectic dae for mi man -_-" alrite,now pay attention as im gonna type it all out now!
alrite..sch dismissed at 12.15 yest due to da cross country,den i headed off to my gramps' place..thinking dat my cousin would be there alreadi.she cheated mi!last week she told mi she'll reached there early cus she need to rush off to do some stuff,bt when i called her and asked her where was she..she said she was still at home =.= she said da 'plan' changed.lol.okai,nvm..dats nt important,hahaaa!den i was supposed to meet esther and sam at 2pm so dat we could go to da macritchite(nvm abt my spelling!hehee!) together..bt i tot 2pm was too rush for mi cus i reached my gramps' place at 1.30..so i said,nvm i go there myself.so yah okai..den lets skip to da running part!
den darm furnie,inside da jungle..wendy msged mi and said 'quick,u must win da chio bu' (inside joke)..den omg,i was so motivated and i ran infront of her..den da wendy was like'yay,u win her!' LOL it was so furnie lah uh,bt i couldnt laugh..no energy!hahaa!den mi and wendy practically walked throughout da journey..bt we did run lah uh! bt its like..walk alot,run alil sorta thing! hehee! bt worse thing is dat..when we got ourselves ready to run,it RAINED! yesh,omg RAIN! -_-" we were all dead drenched lah uh,felt so sexy..lol!! i mean,wad a day man!when i finally decide to run,it rained..how encouraging?hahaa!bt yea,saw so many sexy bodies..LOL!it was fun though,cus u dun realli get to see 'mass wetness',u knoe..like everyone's wet dat kinda thing!so yea! hahaa!okai,im being lame here..and u guys probably think dat im da last rite? no..im proud to say im 75th! LOL!! knoe y? cus when i was in sec 1,when i got back there..i didnt received ani paper,so i asked 'erm how come i dun have paper?' den they told mi 'oh,cus u're among da last ones..so dun need alreadi' =.= hahaa!yea,laugh ur arses off! oh and da champion house is none other than.....(clearing throat) VIGOUR!! hahaa!!oleh, oleh oleh oleh!~!
den after dat,took cab with esther cus she wasnt feeling well..den reached my gramps' place.my nephew was like' eh u stink!' wad the! i mean..can u imagine if ure being soaked in rain+sweat?can u NOT be stink?duh rite? lol! den i quickly went to take a bath before everyone arrives..it was fun lah,cus took alot of pics..bt quite a few didnt turned up =( my grandmama is soooo cute!hahaa!love her to bits! i like family gatherings..da feeling of togetherness and all,watching each other growing up and moving on with their lives..da feeling is undescribeable! haha,and da best thing was i went round asking them to donate da NKF children's fund..bt a few of my relatives were reluctant becus they feels dat NKF is alreadi rich enough and all..which i so agree! bt,oh wells..it was furnie though!my cousin was helping mi to bribe them..hahaa!yea,it was a tiring day bt yet enjoyable! hehee..alrite,gonna upload some photos we took! =D laters!
cindy
[ 8:57 AM ]

Thursday, March 24, 2005
xiaoyun's head was blocking mi! and noticed dat PIG behind mi? she thinks shes cute by doing dat..LOL!

cindy
[ 5:30 PM ]

miaomiao,mi,shen,xiaoyun and vivian..

cindy
[ 5:29 PM ]

we were running outta pose! and wanna knoe whos lame idea is this? tan miaomiao's!

cindy
[ 5:29 PM ]

ah,this is nice..except dat photographer's fingers!

cindy
[ 5:27 PM ]

wad was i doing? i dunno..lol!

cindy
[ 5:26 PM ]

miaomiao,mi and shen

cindy
[ 5:22 PM ]

miaomiao,grandmama and mi..hahaa

cindy
[ 5:22 PM ]

miaomiao and mi again!

cindy
[ 5:21 PM ]

da cousins pic!

cindy
[ 5:20 PM ]

smackies from lengleng to grandmama!

cindy
[ 5:19 PM ]

da bdae gurl!! my grandmama!! love her to bits..-smacks-

cindy
[ 5:18 PM ]

mother and daughters..

cindy
[ 5:17 PM ]

miao miao and mi!

cindy
[ 5:11 PM ]

romantic atmosphere =D bdae gurl in da middle..hahaa!

cindy
[ 5:11 PM ]

cousins and grandmama!

cindy
[ 5:10 PM ]

sister act..muahaha! mommie and aunt =)

cindy
[ 5:10 PM ]

mommie and grandmama!

cindy
[ 5:00 PM ]

Wednesday, March 23, 2005
jus finished bathing..ooh,feel so refreshed now!=)
hmm,nuthin much happened todae..except as usual,being MOCKED abt my hair again=.= when will this ever end? stupid roy with his stupid mushroomy theory!i detest mushrooms now! bet those who are reading this probably agreed with his theory!y?tell mi y? ='( and for those of u out there,in case u duno..i shall remind u again,
HAIR WILL GROW FOR GOODNESS SAKE!
(clearing throat)
LOL!im all cool,no worries!
den,got back chemistry test marks..yup,not surprised at all,i flunked yet again.bt hey,theres improvement lah uh!i jus need another 1/2 mark to pass!and yea,guess who scored da highest?jaffar and andy! speaking of which..andy said dat he would flunk da paper cus he didnt study and etc..bt in e end?!this taught us NOT to listen to his bullcraps!lol!
hmm,lets tok abt something which is more cheery instead!tmr's my grandmama's bdae!hehee!bt den again,tmr is da cross country!oh no!i think alot of pple will be walking throughout..well,maybe!bt im definately da 'walking throughout' sort! haaha!den after which,i'll be rushing down to my gramp's place! bt wad im afraid is..i might stink da whole house!and all my relatives will be there!>.< arh,nvm..i think they're used to my smell alreadi,LOL!!aniwaes,i guess tmr's gonna be a long day for mi..if possible,i'll blog again yah?till den!
cindy
[ 10:28 AM ]

Tuesday, March 22, 2005
omg,suddenly feel like blogging again although jus now was kinda frustrated with this blog thing!>.< now toking to ruiza on msn,gosh..suddenly toked abt da lower sec daes :'( she asked mi wad was i doing and i was like..doing homework and chatting.den kinda think back during da sec 2s daes,we used to conference on da phone and do da papercut for art..da process was tedious,bt at da same time..fun =D
we'll be like asking each other do until where and all..and i was always da one saying 'wah,cannot alreadi..i cannot tahan alreadi',den they would be like..'go make coffee!cannot sleep!!' hahaa,it was realli nice lah uh!having support from each other.. :) den ruiza is always da most creative one..she'll help us to draw and we'll cut,haha! harya,needless to say,her art work is always A(s)..lol!
den come da classrooms.mi,ruiza and gillian stayed back to help to decorate da class..it was fun man!decorated it like kindergarten!(well dats wad da class says!)haha!bt our classroom was da 'role model' okai? all da other classes started copying us =p
den we had our 'secret' hiding places for handphones! we made a hole at da bottom of da curtains and hid it there..hahaa!den there was once,jianwen hid his and some of their handphones in the ceiling(it was movable) den it started vibrating..den mrs goh was too blur to notice it and da class was rather coporative as we started making noise to distract her attention! lol!it was so furnie lah uh! den they were like blaming him..it was a close shave indeed! haha..oh,and our class is so mischief until teachers who taught us had to write a weekly report to da principal..and we hate to be compared with 2B.haha.
den coming sec 3,we(da gurls)were anticipated to see how da guys looked in long pants..hahaa!bt now?-snort- hehee!those were da daes filled with lotsa fun =) i guess 10 years down da road,when we looked back at all da things we have done..we will den,truly knoe wad we were living for.
oh gosh,i sound so..sentimental!=.= hahaa,yea im so free to type out all these! lol!
cindy
[ 12:57 PM ]

oh my friggin god!!!!! second time..second time!!!!! -ROAR-
wad the hell!? omg! this thing is realli killing mi!! and my patience is wearing thin!! i typed such a LONG entry and it turned out blank AGAIN!!ARGH!!!! hate this hate this!
DARMIT!!!>.<
argh,shet!im jus gonna summarised wad i've jus typed!-shouts-
sch starts todae..new term jus began.(omg,im sorrie..my mind's blank now!)okai,i was saying..was almost late for sch todae! yesh,first dae of sch,almost late.my maid was like trying to wake mi up and she was like 'eh cindy,u todae no need to go to sch ah?' den i was like..'oh shet!its 6.30!' quickly jumped off my bed and bathe.bt yea..still missed da darm bus!da bus stop is like..so near yet so far!=.=
and yup,i expected it..got all kindas comments from pple abt my darm HAIR!(cursed dat salon!cursed dat salon!) from mushroom to HAMBURGERS from derrick heng!hai..i lead a sad life u see.first was esther naomi,she was like..'y u cut ur hair!'=.= den after dat after sch,helle was like'cindy!slap u ar,y u cut ur hair!'..to mi,i feel cutting my hair is like punishment..cut hair also got pple wanna slap mi!='( like i said,i lead a sad life..bt to all u pple out there,i wanna say something..
HAIR WILL GROW!!
HAIR WILL GROW!!
first 3 periods were fnn,and ms soo didnt come!luckily i did not rush to do my coursework yest.nite! my eyelid were saggin and i could not hold on ani longer..so slept at 11.30. den taught esther some blog stuffs,she's slow u see..cant blame her!lol!jkjk!den manoj bought KINDER BUENO! lol!im so addicted to it i dunno y! yummy!yah lah..fat fat fat,dun care lah!speaking of which..da stupid esther..during chemistry,sheena said she's gonna buy for mi tmr and she was like 'dun buy for her lah,she so fat alreadi!' hooi!is being fat a crime!-slaps- she's just jealous dat pple's being nice to mi and NOT her..lol!-snort-
den after sch,helle asked mi if i wanna go with her to queensway cus she need to do some class t-shirt stuff,so i was like..okai.bt da sam wanna eat so she asked if wanna lunch together so we went to far east's..subway!hehee,i'll never get bored of it!bt da seafood taste like -ahem- u knoe lah uh!lol!still preferred TURKEY BREAST and HAM!hahaa!den in e end,we didnt go queensway..so i headed home.i lead a sad+boring life u see..lol!
yea,dats abt it..i forgot most of da things i typed lah uh!my mind's like da blog..BLANK!arghh!ciaos!
cindy
[ 10:27 AM ]

cindy
[ 10:05 AM ]

Monday, March 21, 2005
yo! jus got home from..bowling! hehee..dun ask mi y,im so addicted to bowling these daes >.< hahaa! erm,had tuition in da morning..den esther called mi and asked if i wanna go out and lunch with them cus kelvin wanna eat..and i was like'huh,erm..(realli trying hard to come out with an excuse)'lol,bt in da end i went lah uh! i felt realli bad cus im always da one saying'no' whenever they wanna go out.so..for once,i agreed!=p
den met them at da little india bus-stop..hot dae+bad hair dae!(i realli hate my hair!arghh..curse dat salon!)..den we walked all da way to parklane,oh no..erm to sunshine plaza if im not wrong to eat WONTON noodles!=.= i ate fried youtiao hehee!yumyum!
den after dat..we walked back to parklane.didnt knoe where to go..den i saw this 2 indians eating mac's ice-cream and i wanted to eat too!so we went to mac and bought it..lol,it was so embarrassing lah uh!usually im a pro ice-cream eater..bt i dunno wad happened to mi todae(must be da bad-hair cursed!),da ice-cream kept dripping..-_-" hahaa..den esther met her mom at da bus stop after which,mi,kel and wendy left to p.s.
lol,and on da way there..we saw 'sailormoon'!HAHAA it was so furnie lah uh!this gurl..she was wearing this stuper short skirt,jus below her perky butt! omg,and when da wind blew..her skirt got lifted up(okai,im exagerrating here)bt yea u knoe wad i mean lah uh! its so short and she was wearing a black undergarment!im NOT a pervert mind u!it was SO OBVIOUS =.= and practically everyone dat she passed by jus stared at her..lol!all chee ko pei(s)!even gurls yea..lol!and her bf is so useless!he jus walked side by side with her..i mean,at least stand behind to block her or something rite?bt NO,he feels so proud!smiling all da way..wad the?!and da way she walked was so furnie lah uh! hahaa!den da 3 of us were like laughing like mad..lol!okai..den we reached p.s,walked arnd to find salons cus kel wanted to cut hair..den met louis and this monkshill gurl..dunno wads her name=p
den kel decided try my salon..not this cursed shop!da other one..so we were like okai.den we walked all da way to meriden bus stop.half way there..kel said he wanna go bugis to cut!and i was like..'thanks ah,walked all da way to da meriden bus stop when we could jus take da bus at p.s!' hahaa,bt oh wells!den we went da 'chapter 2' salon..so many weird weird pple?lol!theres gays?butches?hahaa..no lah,im crapping! den after dat,went to bowl!
hehee!i had betta luck this time round =) strike,spare..woohoo!it was fun!hehee..fun for mi at least!yup..wanted to eat roti prata,bt realise dat i..HAVENT EVEN START ON MY RESEARCH YET! wanted to take a bus home bt was far too lazy!so..took a cab instead!and now..im on my cosy arm-chair blogging da blog?!LOL!yup,i knoe for sure im gonna sleep late todae..so i shall start work now and den hit da sack!nite!=)
cindy
[ 2:18 PM ]

Sunday, March 20, 2005
omg! i cant believe this! i took 10 mins of my life to type an entry and it turned out.. BLANK?!!?+shouts!+ omg! argh!! why! why are u doing this to mi! ='( -cries out loud-
(still recovering from da shock)
fine! i shall re-write and use up another 10 mins of my life!-_-" okai,i was saying..i jus finished(okai,not just..10 mins ago!) toking on da phone with ruiza.chatted for abt an hour plus?yea,she's full of craps! okok,it takes 2 hands to clap=p oh!and miss congeniaility 2 is coming out soon!jus cant wait!da ever ohsofine Sandra Bullock..i simply loveeeee her shows! and shes realli pretty! my elder sis has a gigantic poster of her -_-"! speaking of which,my elder sis had flown off to London.lucky arse!her next stop would probably be Germany..yea i knoe she's enjoying herself,well she MUST be enjoying herself..and poor mi,gotta start muggin for da big Os :'(bt oh wells,im waiting for my reward too!erm..ruiza and my reward i should say =D harya,dat arse knoe wad im toking abt!hehee!
bt im NOT planning,im jus looking forward to it..cus i knoe planning sucks!none of my plan ever works out,im serious!it will either turn horribly wrong or it wouldnt even happen at all! lol,sad eh?hahaa,bt yah i knoe..its alil early to tok abt all these..its onli like,march?!harya..jus let mi be,let mi live in my own world..LOL! okai,i shall update again..laters!
cindy
[ 4:59 AM ]

cindy
[ 4:45 AM ]

Saturday, March 19, 2005
hehee!okai,i cheated..blogged 2 times todae! finished watching da much anticipated 'you are the one'! its jus so nice and i jus cant stop thinking abt it! da haomeili is like so darm cuteee! towards da ending of da show they showed how da newly-weds got on with their lives and den theres this part simon put on an anklet for meili and den da meili starts shaking her leg,den simon came towards her with a cane!hahaa! so cutee lah uh! =D better half.hehee!
oh no,i havent start on my research!gonna stay up late again i guess! =.= hehee!oh,jus uploaded a music video hope it wont be too laggy yah? okai,nite!
cindy
[ 2:50 PM ]

hey!im an early bird todae..well actually practically EVERYDAY! ive been waking up at 10am sharp since da starting of da holidaes..dunno y!yea i knoe its kinda unbelievable,bt miracles do happen!plus,i slept late yesterdae! slept at 2.30am! i knoe u guys probably think dat i was slackening rite?! NO! I WAS DOING MY COURSEWORK..oh my my,im so proud of myself!+wide smiles+ yup,i completed my TA,Listing of priorities,introduction and workplan!oh lala,im jus glad i pulled it through! and todae..i'll be working on my research.how exciting.haa!
eh..watched 2 dvd(s) todae..'haunted mansion' and 'cinderella story' =P yesh,i knoe im kinda out-dated bt i was realli bored! haunted mansion was nice =D and i watched cinderella story is NOT becus of Hilary Duff for god sake!(no offence to all hila-fans!)i watched becus of Chad Michael Murray..lol!oh yeah,he's realli a charmer=)okai i'll stop! hahaa!oh..den in da morning,theres this internet guy came to help us fixed our comp..yup,u guessed it rite..my comp was flooded with virus and da spyware shet!bt all's well now =Dbt da person was toking and toking non-stop,darm annoying!(okai,im not being evil here lah..bt i mean in da moring uh,pls spare my ears =.=)and he was like toking to himself most of da time?-_-"hehee..
aww,todae is da last episode of 'you are the one'! ='( i jus love dat show i dunno y! da 'haomeili' so cuteeee! and da show is jus furnie lah uh! omg i jus cant wait!approximately 5 hrs more! =)
cindy
[ 7:50 AM ]

Friday, March 18, 2005
harlo! im back..again! hehee..decided to 're-new' my blog again,for da fun of it =) fine..im jus too bored! da one week holidae had started..well,long ago! and im planning to stay at home todae to finish up my coursework..knoe y?cus i hafta REDO EVERYTHING again! my disk got corrupted..how lucky?! and thank god i checked da disk..if nt,i wouldnt be able to finish it on time! erm..yesterday went back to sch to do da coursework..left quite early though.went to cut hair with wendy and esther at far east..and yea,i regretted again!(i knoe my frens would probably think dat since WHEN i DONT regret cutting my hair)..hehe!bt everyone has regrets,rite??? lol! den we walked arnd orchard..and decided to slack at Lido while waiting for wiki.bt in e end she sorta stood us up =(
den..being as sarcastic as she is,our dear wendy smsed her in a 'non-sarcastic' way (notice da inverted commas) and said dat its was 'okay'..lol,darm furnie lah! and oh,its goes something like dat(sms):
wiki:so you still with them?
wendy:nono,im with their spirits..
LOL omg,mi and esther were like laughing like shet man! hahaa! morale of da story? NEVER MESSED WITH WENDY! hahaa! okai,i knoe da first entry is usually short..bt oh wells!hehee!den on monday..went back to sch for chinese remedial.den after dat,went bowling with helena..argh,i sucked at it this time round! i dunno y! da other time i went with karen,its either a strike or a spare..my goodness,with helena?im either a drain or still a drain! =.= hahaa,maybe shes jus LUCKY..muahaha,im so evil i knoe!yup,i guess dats abt it? alritey! gotta start on my coursework now..tata!
cindy
[ 3:18 AM ]

Thursday, March 17, 2005
clockwise:helle,sam,esther and mi..at far east subway!

cindy
[ 7:19 PM ]

omg! hahaa! it was a lucky day man! brought my camera to sch on fri and went to far east and taadaah!bump into randall tan! hehee!