Cindy.Chen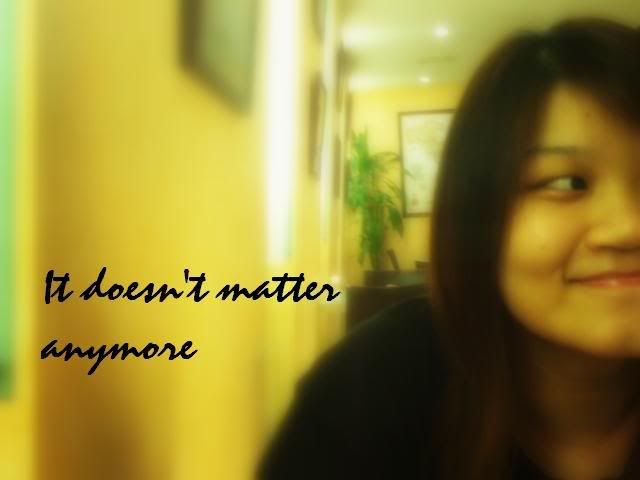 About ME


+25th Jan 1988.
+20 years old
+PSBAcademy.
+mhss.
+family.
+music.
+travel






Sunday, July 31, 2005

morning pple!~! okai,actually i shouldnt be sounding so happy..c'mon,its a SATURDAY yet i wake up in the morning?!! argh! =(( jus for ur information,the time now is..10.08am! and jus to add on another information,i'd usually wake up in the afternoon on saturdays!why?cus dats the ONLY day i can sleep my head off!! *tsk* reason being i woke up,oh wait..being forced to wake up is becus of? THE COMPUTER MAN LAH! piang..i didnt even knoe he was coming,den i tot it was the air-con man cus my dad told mi dat the air-con man might be coming sometime this week or next week.so i tot maybe its the air-con man and he needed to clean my air-con,but NOOOOOO..its the computer man!*grind teeth* and this is not the first time mind you! and plus,he's not fixing my comp..its my sis's! wah wah,hai..nvm.i shall stop being so grumpy.
yesterday after sch,mi,esther,wiki,wendy and christy stayed back to do alil bit of fnn.yes,as usual we left without doing much.i mean seriously,we're getting realli sick of fnn and we wouldnt have dat kinda motivation until the due date is nearing.yea,dats us!LOL.wendy and christy went home first..so left esther,wiki and me.so we went newton and had our lunch.we were deciding where to go in the evening..wanted to come my house and watch the dvd(s) dat i borrowed from andy but in the end,decided to go wiki's place as she's cooking dinner *hiak hiak* den we all went home and waited for the time to pass..cus we were meeting at 6+.den wiki,wendy and christy called me and i conferenced awhile.the tone of my voice wasnt realli good lah,was kinda grumpy maybe becus im too tired+lack of ample sleep.and plus wendy's voice(same tone of grumpyness)made me more pissed.realli,whenever i dont have enough of my beauty sleep,i'll be darm grumpy.so yea,jus a precaution for u guys.hahaa!but all was well after dat =) after we met,we went to the Goldenmile thai supermarket and bought drinks and snacks.den we went to wiki's place.and omg,her balcony is so damn nice..i mean the seaview is RIGHT INFRONT OF YOU,wad more could u ask for!? it was soooooooo nice+romantic! hahaa! argh,too bad i didnt brought my camera,if not..i'd have taken a pic or two and put it up!its like,u can see the whole of kallang river,suntec and u knoe every year's national day is held at the national stadium rite? yes,she has the complete view of the fireworks! cus the stadium is jus right infront of her! as in,theres nuthin to block her view! ahhh,im so jealous! and even if its holding at the padang this yea,she'll still be able to see it! =(( for me,there will be FLATS BLOCKING MY VIEW,resulting me NOT able to see the fireworks!it gets realli irritated u see.dat is why every year,i can onli hear the fireworks,and NOT see.but i guess this year i'll be able to see..like finally!after being 'blind' from fireworks for years! okai,den we ate dinner at the balcony.my oh my,its so romantic!hahaa..realli!for gurls,it'll be the best place to have a heart-to-heart talk.for guys? erm..drink?haha..for couples?u guys wouldnt go out of the house animore.=) call wiki for reservations!
while we were having our sumptious dinner,2 noisy arses came and disturbed our peaceful minds.they are none other than xueling and beeting.furnie how,ive never realli mix with pple younger than me,as in frens.dats y its alil weird for me.lol,maybe im too mature for them lah! jkjk! oh,did i mention the dinner was greaaaaattt!? i kept bugging wiki to cook 'kangkong' for me the whole afternoon and voila!im satisfied =) and the dishes include scumble eggs,mince pork with veggie,tomyam soup and chicken wings. yum!
after dinner,it was 9pm..and wad's my routine when the clock ticks 9? YES,MY XIAOAN! BUUUUUTTT!! wiki's house no channel 8! can u believe it!? i cant! i cant! i realli cant! so,i was kind enough to help her tune..but dont have! omg! and i panick.cus it was like 2 mins before the show starts.den finally,i found! BUUUUTT the reception is damn lousy lah! the entener(i think dats how u spelt it?) is not even recepting anything! =(( the whole of my seventeen years,ive never had such a hard time watching teevee.its like every 2 secs interval,it will turn to blue screen kinda thing.and esther they all kept laughing at me..cus it seemed like i was staring at the teevee with basically no picture on screen.hahaa..so we gave up and watched vcds instead.
the rest of them were drinking at the balcony..as usual!some went realli emotional and some jus went crazy.and me? im jus glued to the teeveee as usual,like wad kelvin said.hahaa! esther and wiki were realli emotional lah.they cried while watching the show.and the funny thing is dat,they watched the show umpteen times! and me? i watched it for the first time and i kept laughing..ok lah,not kept laughing..jus dat i dont realli find it dat touching.okok,im cold-blooded.=p
after all the craze,emotional,dramatic acts..we decided to go esplanade and eat ice-cream.haha.sounds dumb rite? haha,it all started when we used to cycle all the way to esplanade.den one day,jus happened dat we wanted to try the ice-cream and wooo~ the ice-cream is damn nice lah! and its so cheaaapp! hahaa! so from den,we kept toking abt 'esplanade ice-cream'. hahaa,but when we reached there..its CLOSED.-_-" so we jus sat for awhile and went home as it was getting late. oh,but before we went to esplanade,some furnie thing happened.cus wiki's house the corridors are realli eerie cus its like those typical horror film where u knoe,its long and dark..and (ok,leave it to ur own imagination!) so christy was like..'no,this is not scary enough..u wan i show u more scary one'. we took a lift and we didnt knoe christy was realli gonna show us,so the lift stopped at level 8.den the door opened and esther was right in the middle.when the door opened,she jus grab mi and i was like wad happened?! cus she was standing in the middle and when the door opens,she can see directly the corridors.and it was so dark.i didnt managed to see lah.den they all said it was damn scary.lol.den after dat,wiki needed to pass the keys back to her mom at the stall so esther,wiki and mi went back to the stall..den wiki was telling us the other time they also went to the 8th level but the lift door couldnt close.den, i dunno wad happened lah,when we were walking at the edge..u knoe sometimes the shopping mall got those corners and u wouldnt knoe if there are pple and u might jus clash onto them? yea,den esther wanted to scare me..den theres this guy jus happened to be at the corner and i think he got scared.LOL.den i got scared too..so i stepped on esther's toes.LOL!! wah it was damn furnie lah! hahaa! den the 3 of us kept laughing non-stop.i mean,hello? when ure toking abt ghost stories,u'll become realli paranoid abt ur surroundings wad! den how we knoe suddenly theres someone at the corner? LOL.so furnie lah..and the guys was like @_@. HAHAHAAHA!
okai,since the ice-cream stall was closed..me,christy,wendy and xueling took bus home.christy and wendy had to send xueling home cus xueling abit drunk.yup.den reached home,nagging session by my dad began..okai lah,it was my fault cus i didnt tell him i was going out.
yup,dat was the day.omg,such a looong entry.i admire ur patience if ure able to read finish the whole thing.hahaa! till den!



cindy

[ 2:11 AM ]

Friday, July 29, 2005
wooo~ its been a week since i last update.heh =p
aiight,a few updates..
26 July 2005,Tuesday
went for the band concert at Victoria Concert Hall.it was fab! =) especially when it came to the slideshow part,im sure memories kept flashing back to the band members.aiight..although im a traitor of band,im still gonna say it..mhmb rocks my socks!haha =) great effort there!
after which,esther,christy,wiki,wendy,jaffar,me and this sec 4 malay guy went to clark quay's Chocolate Bar as christy wanted to dance and they felt like drinking.so we went and saw this 2 gurls dancing so intimately with each other.gross-ness.they're like basically touching each other's buttocks and all lah.maybe guys will enjoy looking at them,but yucks..such a turn off for me.christy and esther started dancing..and wiki joined them afterwards.mi and wendy were like practically sitting at the couch looking at them and staring at blank space lah.lol.didnt realli do anithing lah,jus had a few sip of sprite+vodka.den later on,a few angmohs came in and i lighted up.LOL.no lah,jk! after which,me,chris,wendy and wiki took a cab home.dropped wiki off first cus she was drunk! =.= den mi,chris and wendy went to makan.reached home at abt 12.30am+.didnt wanna go to sch the next day..so i was telling myself if its rains,im not gonna go to sch.BUT it didnt.argh!=(
today is a nice day.haha!finally caught up with those M.I.A pple..like? RUIZA and my elder sis!! hehee,feels good to be keeping in contact again.my elder sis put on weight lah! LOL.and she looked damn comical lah.cus she was webcam-ing with me and i was like laughing nonstop lah.=)) and ruiza.the ass dat has been M.I.A for so darm long,finally saw her on msn! haha.chatted awhile and yea..it feels good too =) catching up with my sis(s),as in..biological and non-biological.it makes mi feel great!! =))))
derrick reminded me of something.this morning i took the bus 66 to sch and the driver was so rude lah.cus theres this indian guy asking for directions and the driver jus shouted at him.my gosh..i can understand how embarrassed the indian man must be feeling.den derrick was like saying the driver 'damn racist' and all.hahaa.relac man bro!haha..and he said he sent an email to SBS to complain.and i was like 'u should have taken down the plate no.' den he was like 'taken alreadi!' LOL!see,complain king in action! haha,jk! =p
aiight..im late to see my xiaoan alreadi!! till den!
cindy
[ 12:10 PM ]

Friday, July 22, 2005
i realised im getting lazier and lazier each time.i dont feel like blogging no more.see,all my entries are short and boring.nuthin to update wad,so boring lah?hehee..
first 2 lessons was the best! it was MT and we went to the AVA theatre to watch the 'Lei Yu'. yes,it was abit too chinese but the story is nice,realli nice.and of cus,not forgetting 'shuai ge',my 'Zhou Chong'. wahaha! okai lah,he's not realli
that
handsome(i mean,compared to edison?he's like..NOTHING) LOL.okai,im mean! -pout.cant wait for tmr,cus it will be the part dat 'Si Feng' got electricuted.
had fnn pratical today during recess for the coursework part B. baked cup cakes.everyone was panicking lah.okai,not panicking-panick but like,everyone was realli nervous and all..cus ms soo didnt teach us how to bake and all.okai yes,baking doesnt require much skill but still! =p after the whole thing,ms soo was kind enough to ask sheena to help us make egg omlette becus we skipped our recess jus for the pratical.it was darm salty lah,i think sheena wanted to kill mi damn badly.lol,but somehow it taste nice lah.hahaa!
after fnn,was english..so,gave the cup cakes to some of the art students.and woOoOhoO!had some nice feedbacks abt my cup cakes :)) i was so worried dat it might taste like crap,cus as y'all knoe,i cant cook for nuts! however,cooking and baking is 2 different things so yea,u get my drift? haha! aiight man,finally ive found something which im
quite
capable of!
argh!tmr will be having 2 tests.maths and social studies.guess im gonna flunk it aniwaes!i mean i will study lah,its a miracle,realli! hahaa!aiight,we shall see!
im so tired these days.i think im jus lack of sleep.and plus,having such cool weather is realli a bonus to have a good night sleep.dont u think so?u jus wanna sleep alil more,and more,and more more more...zZzZzz
cindy
[ 11:38 AM ]

Tuesday, July 19, 2005
spot any similarity?!? wooOhOo! I LOOOOVE THIS PIC LAH! LOL!!!!

cindy
[ 5:00 PM ]

Monday, July 18, 2005
im very contented after eating my grandma's curry chicken :)))) its the best curry chicken ever,i swear!! *teehee and my all time favourite is using bread to dip it.its oh-my-god,heavenly deliiiiciooous! christy,wendy and wiki came for awhile cus i asked them to help mi finish up the curry.lol.too much lah,my grandma and mom scared dat i might starve to death.hahaa :)
woah,i ate alot today lah.hahaa..it has been quite awhile since i have such greaaat appetite man(except of cus,when the monthly affair arrives).lol.i mean,most gurls are like dat lah.so its sorta a signal.=p
hmm,havent seen ruiza online these days.dat day she asked if wanna go taiwan at the end of the year.not a bad idea eh?hahaa..but im not sure either.its still a long way,no? erh had tuition today.haha,my tutor is realli a joker lah.but i mean,she dont realli TELL jokes..but her actions is like realli hilarious.shes dat 'kan cheong' type.so everything she does is rush,rush and more rush.cute.and the 2 hours seems to pass by so quickly lah,i dunno y! lol.
argh,tmr's monday again.a whole new week again.and after every week,its gonna be nearer to prelims.shucks!
cindy
[ 12:54 PM ]

Sunday, July 17, 2005
yooohooo pple!! nice weather today :) woke up at 1.LOL.it would be a waste if i didnt sleep my head off,no?*teehee..actually today was supposed to go ms soo's housewarming.but im jus too lazy to wake up lah.hahaa!
wanted to do my tution homework jus now,but very lazy leh?haha!so i jus lay back and relaxed and watched my 'zhen qin'.but today no xiaoan lah!=( but anihow,it was still enjoyable..reason being?it's such a nicccceeee weather today! LOL.
and during the commercial breaks,guess wad i did? HAHA! kept taking pics of cus! *shy* i mean,realli..i should practice some self-control,no?but its hard lah! when the camera is under ur control and u jus have dat urge to take ONE damn pic of urself.and another.and another.and another.LOL yes,one after another!dats how i accumulated to taking 50 shots of myself the other day.BUT today,i onli took 7 lah.LOL! yes,im such a camera whore.but i realised,im CUTE leh.omg.wahaha!i defintely lived up to my name,rite?erh..as in nickname. BHB QUEEN is in the house man wad do u expect!? but realli pple,if u own a digital cam..its time to take multishots of urself!if u dont,GET ONE NOW lah! hahaa!
i used to be a 'camera-shy' type of person.but look wad digital cams does to pple like me! hahaa!okai lah,i knoe im toking shits now.*teehee
on a serious note,i think *e and *k are realli having probs now.(no names shall be mention here,but if u knoe who they are,good.if u dont,too bad) perhaps its none of their fault.but realli,i think when things like dat happened,it best dat both parties talk it out.nobody knoes wad realli happened or maybe,actually nuthin happened.but either way,its realli good to clear the air,yes?its betta to be awkward for jus dat one time rather than being awkward everyday.cus u guys are gonna see each other everyday.so,think abt it. i cant realli comment much becus im not in the right position to say anything and i dont wish to make this incident such a big issue thereafter.i guess u guys are far more mature enough to knoe wad to do next.yup,dats all i can say :)
cindy
[ 10:07 AM ]

Saturday, July 16, 2005
aiight,today shall be a short entry! gonna upload the pics we took yesterday :)
okai,today had MT listening..it was a okay.jus dat maybe i wouldnt score dat high.i dunno y,but my listening sucked.and the best thing dat could ever happen to me? i forgot to bring my ENTRY PROOF! hahaa,but cheerios to my saviour! MISS GOI! but it wasnt an easy process u knoe? interrogating me all the way.hahaa,but esther was the one doing the toking lah.*teehee
erm,was supposed to go christy's bbq today..but in the end,didnt go.i guess they expected it too lah uh.LOL,in fact..i think they're used to it! =p but i realli wanted to go lah,jus dat i dunno how to go..hahaa!but oh wells,and the weather is so nice..so,dont realli feel like going out either!! the cool breeze.total enjoyment! and i think im jus a teevee freak lah! haha,im glued to the teevee every now and then!especially during weekdays.its like,when i reached home from sch..i'd bathe,on the com and surf the net.when it hits 7pm,watched 'tong xin yuan'..all the way to 10,sometimes even 11! see,NO REVISIONS! omg omg,im like realli slacking lah.shits.hahaa,and oh! if u guys watched the 'zhen qin'(kindred spirit) there is this guy named 'xiaoan' in the show..he's acting in the 9pm drama serial on channel 8.his character name is 'yijie'. and he's like..oh-my-god lah! damn handsome lah! hahahahaa! got dat kinda boyish-look u knoe?? ahh..nvm! LOL! aiight,sorrie..it was SUPPOSED to be a short entry.*bleah*
cindy
[ 2:02 PM ]

Friday, July 15, 2005
OMG BAOMEILI! IMAGE PLS!

cindy
[ 11:27 PM ]

chest muscle master and me..

cindy
[ 11:26 PM ]

see! I KNEW IT! i knoe jus wads under christy's sleeve.always up to something!

cindy
[ 11:25 PM ]

so sweet of sam.baked a small heart shaped cake for christy..aww~!

cindy
[ 11:24 PM ]

HAPPY BIRTHDAY..welcome to the oldie club! haha!

cindy
[ 11:24 PM ]

me and wiki...

cindy
[ 11:23 PM ]

second shot

cindy
[ 11:22 PM ]

the lot of us at swensens

cindy
[ 11:22 PM ]

christy,me,wiki(the man) and kelvin

cindy
[ 11:22 PM ]

one fine day..in fnn room

cindy
[ 11:21 PM ]

move aside liang popo! lets present...LEE POPO! *claps*

cindy
[ 11:20 PM ]

they make a great couple,dont they?

cindy
[ 11:20 PM ]

'look at me..ive never seen the so-sexy side of me before!' say THANKS CINDY.ure welcome christy :)

cindy
[ 11:19 PM ]

oooh sexay ladeee~ i like ur flow.erm,not in this case!

cindy
[ 11:18 PM ]

shiok?hahaa! ive got a phobia for dat smell..realli.

cindy
[ 11:17 PM ]

hahahaa! the bday gurl and the bday boy..

cindy
[ 11:16 PM ]

the four of us..after watching Inital D

cindy
[ 11:16 PM ]

nice rite? the Italian sodas..hehee

cindy
[ 11:15 PM ]

and baomeili..the cover-face version. 'you mei you su jiao dai?'

cindy
[ 11:14 PM ]

now?she knoes..

cindy
[ 11:13 PM ]

she didnt knoe i took this pic........

cindy
[ 11:13 PM ]

lets present...THE MAN!! wOooHooOO!

cindy
[ 11:12 PM ]

HAPPY 17th BIRTHDAY TO CHRISTY!!! and to Ron,although i dont realli knoe him.haha.HAPPY BIRTHDAY BOTH!
yesterday jus before it strikes 12am,we all had a conference on wiki's hp.and u knoe wad?when it strikes 12,i didnt even had the chance to wish christy happy birthday.everyone was like..'happy birthday christy and ron' like one after another.when i wanted to wish,they started toking again..especially xueling.i was like..
me:eh..chris......
xueling:haryo cindy!today i cuter than you.*puke*
me:erm? okok..eh christy..
-xueling kept making alot of noise!!-
wiki:eh xueling,can u shut up not? let cindy tok can?
-so grateful to wiki..but................xueling still keep making noise!-
so ive got no choice but to sms christy,yet still holding on to the phone! i didnt speak more than 2 sentence.jus..'hello'.yup.lol
hmm aiight,went to sch stuper early today..sheena was shocked.lol.cus ruiza's mom hafta pass mi the prez dat ruiza bought for us.so nice of her mom rite?came to sch early in the morning jus to pass the presents.=)
during recess,had alil celebration for the birthday gurl+boy..took quite a number of candid shots,shall upload when i have the time!:) i didnt have the chance to eat the cake..i think ive got a phobia of chocolate cakes alreadi.cus the other time,they smashed the cake on my face+hair+blouse..and the smell is oh-my-god.disgustingly g.r.o.s.s! haha.
den after sch,went to esther's house to get changed.cus we were meeting christy and all for dinner.wanted to go esther's house first den come my house.but was pure lazy plus the heavy rain.so decided to go straight to meet them.
went to eat at swensens.took a few pics again.but dunno wad happened to esther,she said she wanted to go home.i think she was too tired?harya,everyone had a long day..so,yup.after dat,we went to take neo-shots den christy and me rushed home.christy had celebration at home too,and me?hehee..rushed home for teevee!! wanted to take a cab,BUT no cab! u knoe how annoying it is? like whenever u need a cab,it is nowhere in sight.but when u dont need it..its EVERYWHERE! arghh! so in the end,we took 133 and changed to 107. haha.see,we saved money!
yup,so now..im in the comfy of my room.gonna hit the sack soon! tmr having listening..how fun!LOL!aiight,shall update tmr..nitee pple!
p.s: esther,yesterday's entry was purely for entertaining lah.nuthin serious and nuthin offensive. sorrie if u felt offended,k? =)
cindy
[ 1:55 PM ]

Thursday, July 14, 2005
okai..i knoe i hadnt been updating much.reason being? nuthin to update lah! haha. everyday's the same.school home school.=p
band is having a concert on 26 july.yes,a tuesday..which made mi dont feel like going even more.becus the next day got school.but i'll consider lah.cus of kelvin ok! pls feel honoured lah! haha..yah,okai i knoe its gonna be the last concert but..oh wells! later kelvin's heart gonna scatter all arnd again...LOL!! and today so furnie lah.during recess,kelvin was like asking mi to go the concert..den he was like
kelvin:eh,go leh..u dont go i will heartbroken
esther:eh..den if i dont go leh? will u be heartbroken??
kelvin:erh..'hai hao lah'
esther: huh~!
den she was so heartbroken lah.LOL.she was like asking naomi if shes going for the concert den naomi asked her back..so esther was like,
esther:harya,actually i wanted to go..but now?i HAVE TO CONSIDER
naomi:y?
esther:cus kelvin wont be heartbroken even if i dont go wad..*act sad*
haha,damn furnie lah uh!den after fnn,while we were walking to maths class..kelvin walked pass us.at first i tot esther would ignore him..like,jus act angry with him.but u knoe wad? she jus grab kelvin and hugged him!LOL!omg,u guys must see it den u'll laugh lah.she has a habit of grabbing pple and hug.and yes,im definitely one of the victim.pls feel sorry for me..although im alreadi quite used to it lah.heheee!
den after sch,we went to far east..saw amarjit and jannah.lol.i suspect amar is actually stalking me!LOL.it was so furnie lah..cus everytime when we were at subway,we are sure to bump into her.so today,we decided to change venue..to long john.in the end?we STILL bumped into her!and she was like laughing like hell lah.cus she was telling jannah abt how we would always bumped into each other.den i saw her coming towards us,so i shouted..yes,i shouted 'STALKER!' LOL.she didnt notice at first..was busy chatting with jannah.ahaha! den we kept laughing lah.siao,i knoe! after which,esther suddenly said she wanna come my house.so we flipped coin.harya,flipped coin also no use,in the end also come..LOL! den came my house and slacked.still say wanna do fnn..wahaha!
den,ive got stomache..so i went to toilet+bathe lah.den she told me her dad's alreadi downstair waiting!LOL.i jus started to bathe leh,hello?! haha..but in the end,she went down herself lah.haha!sorrie esther..=)
yup,i guess dats abt it?oh and friday's the listening for MT!hmmm..time flies! aiight! gonna watch tv now! till den!